3
Tuesday, August 31st, 2010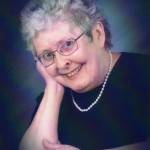 The funeral mass for Patricia Ann Birch will be at 10:30 am on Friday, September 3, 2010 at Holy Family Catholic Church, Kasson, MN with Fr. Paul Surprenant officiating. Visitation will also be at the church on Thursday, September 2, from 5:00-7:00 pm with a prayer service beginning at 6:00 pm. Interment will be at Calvary Cemetery in Mankato, MN following the service and a light lunch.
Patricia, 67, died on Monday, August 30 at Fairview Care Center in Dodge Center, MN. She was born on August 29, 1943 in Mankato, MN to John and Florence Dumont. She married Dennis Birch in February of 1967 at St. John the Baptist Catholic Church in Mankato, MN.
After moving to Mantorville in 1978, Patricia became an active member of Holy Family Catholic Church in Kasson and also enjoyed quilting and gardening.
She is survived by her husband, Dennis Birch of Mantorville; daughter, Rebecca Zacharias of Mankato; son, David (Cherie) Birch of New Richmond, WI; 6 grandchildren; 1 great-grandchild; 2 brothers, John (Barbara) Dumont of Plymouth, MN and James Dumont of Santa Rose, CA; and sister, Karen Germann of Egan, MN.
Memorials are preferred to the Salvation Army.
Click Here to Leave a Comment
Posted in Obituaries |