1
Monday, December 27th, 2010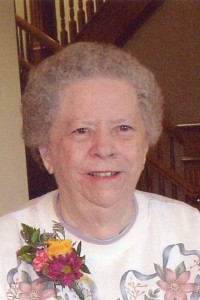 Charlotte Joan Stafford, 79, of Kasson, died peacefully on Saturday, December 25, 2010 at Prairie Meadows Senior Living Center in Kasson, MN.
Charlotte (Char) was born October 16, 1931 in Utica Township to Everett and Hazel Burt. She attended Pine Island High School. Charlotte worked for Waters Conley, H&R Block, and the Dodge County Sheriff's Office.
On November 5, 1949, Charlotte married Harold E. Stafford, who preceded her in death on April 8, 2000. They made their home in Mantorville, MN in 1960. She was a member of the Mantorville VFW Auxiliary. She played softball until age 60 and bowled until 2001. She also liked to quilt and play bingo and was an avid Minnesota Twins fan.
Charlotte is survived by her six children, Kenneth of Rochester, Karin (Gordy) Carlson of Kasson, Kris Stevens of Kasson, Kent of Rochester, Keith (Laurie) of Stewartville, and Karla Stafford of Fountain Hills, AZ; 17 grandchildren, Troy Stafford, Bridget Schrom, Tim Stafford, Sandy Otterbein, Mike Grant, Matt Grant, Joe O'Brien, Tina Horning, Kelly Carlson, Tessa Stafford, Katie Stafford, Erica Gould, Kelsey Stafford, Andrew Stevens, Dylan Stevens, Kale Stafford, and Kylie Stafford; 21 great-grandchildren; brothers Curt, Alvin and Gary Burt; and sisters Harriet Towe, Margaret Berg, Julaine Felstad, Judy Garske, Bonnie Schumann, and Linda Werneke.
Charlotte was preceded in death by her husband, Harold E. Stafford; grandsons Kasey and Charles Stafford; one sister and two brothers.
Visitation will be Wednesday, December 29, at St. John's Lutheran Church, 301 – 8th Avenue NW, in Kasson from 5:00-7:00 pm. Funeral services will be held Thursday, December 30, at 11:00 am also at St. John's Lutheran Church. Interment will be at Evergreen Cemetery in Mantorville.
Click Here to Leave a Comment
Posted in Obituaries |