14
Sunday, January 30th, 2011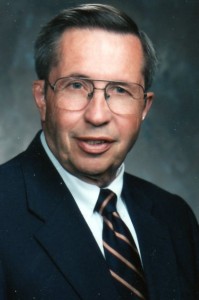 John T. Little, 83, former Kasson-Mantorville, MN resident passed away on Saturday, January 29, 2011 at Sunrise Assisted Living of Roseville, MN where he had been a resident for 3 years.
He was preceded in death by mother, Lelia; father, John; sister, Margaret Stephens; and wife, Patricia. John is survived by his children; Tom (Nancy) Little, Megan (Steve) Beyerl, Thomas Gilmore, John (Angie) Gilmore, Jim Little and Matt Little; grandchildren, Nathan and Rosita Beyerl, Cassidy, Chaney and Crosby Gilmore; and special friend, Jackie Kellar.
John was born on February 19, 1927 in Rochester, MN. John grew up in Kasson, MN and graduated from Kasson High School. He served in the Navy during the closing years of world War II. He earned his Bachelor of Science and Master of Arts Degrees at the University of Minnesota, and enjoyed continuing his education beyond his master's degree.
John was a social studies teacher for 30 years at St. Louis Park Senior High School while residing in Minnetonka, MN. He was very interested in current events and political behavior and passed this interest on to his students. Golf was his favorite hobby. He was also active in the Democratic Party, which led to meeting and marrying Patricia Eslinger on August 19, 1972. From 1957 to 1962, he took a break from teaching and was an office manager at Josten's in Owatonna, MN.
In 1985 he realized a long time dream and returned to his hometown of Kasson with Patricia to raise their sons Jim and Matt and pursue real estate, including developing the family farm (Little's Meadow View Estates). He took great pleasure in showing the development to visiting friends and family.
He thoroughly enjoyed his retirement years with special friend, Jackie Kellar, in Kasson; their ten years spent together enjoying music, plays and travel.
His last home was at Sunrise Assisted Living of Roseville, MN. The family wants to send their gratitude to the caring staff who made his final years happy and comfortable. He made many friends there and was known for waving a friendly greeting to all familiar faces.
A memorial service will be held at noon on Thursday, February 3, 2011 at St. Peter's Episcopal Church, 101 First Street NE, Kasson, MN with The Rev. Justin Chapman officiating. Visitation will be at the church one hour prior to the service. There will be no reviewal. Burial will be at Maple Grove Cemetery in Kasson, MN.
In lieu of flowers, the family requests donations be made to the donor's favorite charity.
Click Here to Leave a Comment
Posted in Obituaries |