1
Thursday, February 24th, 2011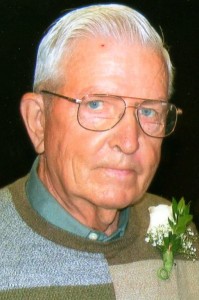 Richard R. Remold, 75, of Byron passed away Wednesday, February 23 at his home after a long illness. Richard was born June 14, 1935 in Kenyon, Minnesota. He graduated from Kenyon High School in 1952. Richard served in the United States Army from 1955-1957 in Korea.
He worked for People's Natural Gas in Rochester for 34 years and farmed south of Byron for 43 years. He was a long-standing member of Christ the King Catholic Church and American Legion Post 119.
He married Ardella Jensen on June 6, 1959. They raised two children, Warren (Kelly) and Wendy (Michael) Fredrickson. He is also survived by four grandchildren, Tyler and Kaytlin Remold and Courtney and Abigail Faulhaber; and two brothers, Everett (Rose) Hanson and Harold (Ann) Remold. He was preceded in death by his parents, Peter and Myrtle and two brothers, Paul and Duane Remold.
Visitation will be at Christ the King Catholic Church, 202 – 4th Street NW, Byron, MN from 4:00-7:00 pm on Sunday, February 27. Funeral services will be at 11:00 am on February 28, 2011 with visitation also one hour prior to the service. Interment will immediately follow the service at the Byron Cemetery. Military graveside services will be conducted by the Byron American Legion.
Donations will be forwarded to the National Parkinson Foundation.
Click Here to Leave a Comment
Posted in Obituaries |