2
Thursday, March 31st, 2011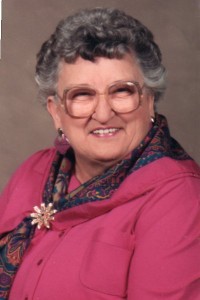 Audrey L. Loken of Grand Rapids, Minnesota, and formerly of Hayfield and Mantorville was born September 28, 1916, to Alma and Gus Gunneson. She grew up in the Dexter area.
On June 24, 1937 she married Earl C. Loken of Hayfield. They farmed in Dodge County before he became an iron worker, traveling much of the country with his job. Many of those years she worked in the school lunch program. In 1970, they settled in Grand Rapids.
She is survived by her two daughters, Coral (Lowell) DeSart of San Antonio, Texas and Gwen Petersen of Grand Rapids; a son, Randy (Lynn) of Alaska; 5 grandchildren, 11 great-grandchildren and 1 great-great grandchild.
They were both avid travelers and dancers.
Funeral Services will be 2:00 pm Saturday, April 2, 2011 at St. John's Lutheran Church, 301 – 8th Avenue NW, Kasson with Pastor Marie A. K. Anderson officiating. Visitation will be Friday, April 1, 2011 at the church from 5:00-7:00 pm and 1 hour prior to the funeral service on Saturday. Burial will be at Maple Grove Cemetery in Kasson.
Click Here to Leave a Comment
Posted in Obituaries |