2
Sunday, April 10th, 2011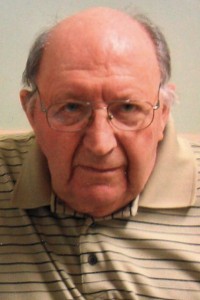 Milbert Leroy "Tom" Bornholdt, age 96, passed away on April 8, 2011 at Augustana Health Care Center, Apple Valley, MN. Tom was born August 28, 1914 to George F. and Bessie (Rew) Bornholdt in Milton Township, Dodge County, MN.
Tom attended Wasioja Public Schools, then left school to help on his parent's farm. He married Alma A. Andrist on October 3, 1939. They moved to their own farm south of Kasson, MN. Tom enjoyed farming and milking cows for over 50 years. He also enjoyed watching and listening to the Minnesota Twins baseball on TV, radio and occasionally at the ballpark. Other interests were fishing, walking, traveling and many, many church activities.
His wife, Alma, died February 23, 1978. He married Lucille H. Lindstrom on January 22, 1983. They lived in the Richfield and Apple Valley, MN areas. Lucille died June 3, 2010. Besides his parents, two sisters and a brother preceded him in death, as did a son-in-law, Wallace Nelson.
He is survived by daughters Janice Nelson of Cannon Falls, MN, Diane (James) Bronk of Rochester, MN and Janet (Tom) Holt of Bloomington, MN. Survivors also include 9 grandchildren, Dawn (Mark) Olson of Farmington, MN, Mark (Deb) Nelson of Maple Grove MN, Cindy (Marc) Lyon of Zumbrota, MN, Kathy (Steve) Holtzleiter of Burnsville, MN, Susan (Scott) Solberg of Ramsey, MN, Nancy (Cullen) Gibbs of Katy, TX, Melissa (Bryan) Saucke of Fiume Veneto, Italy, Jason (Katie) Holt of St. Michael, MN, and Angela Holt of Richfield, MN; 14 great-grandchildren, Ben, Katie, Scott, and Emily Olson; Joshua, Matthew and Michael Lyon; Joshua and Jacob Holtzleiter; Julia and Mackenzie Solberg; Evan and Michael Gibbs and Evan Holt.
Visitation will be held on Thursday, April 14, from 4:00-7:00 pm at the South Zumbro Lutheran Church, 4830 – 120th Avenue SW, Kasson, MN, phone-(507) 365-8110, and one hour prior to the church service. The funeral will be held at 11:00 am on Friday, April 15, at the church. Pastors Mark Schwartz and Mark Olson will officiate.
Memorials are preferred to Augustana of Apple Valley, MN, South Zumbro Lutheran Church or a charity of the donor's choice. Burial will be in the church cemetery.
Click Here to Leave a Comment
Posted in Obituaries |