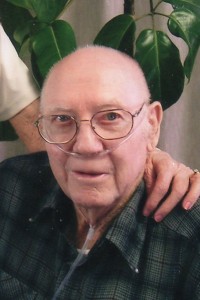 Keith Morris, 88, former Kasson, MN resident passed away Thursday, May 19, 2011 at Fieldcrest Care Center in Hayfield, MN where he had been a resident for four months. Keith was born on November 25, 1922 in Canisteo Township, Dodge County, MN to Oscar and Amy (Beals) Morris. On December 2, 1943, he married Lucille Lee in Rock Dell, MN.
They lived and farmed in rural Kasson until 2006 when they moved into Kasson. Keith also worked in road construction and was employed by the Mayo Clinic. In 2010, they moved to Hayfield.
He is survived by his wife Lucille of Hayfield, MN; sons Richard (Sandy) of rural Kasson and William of Hager City, WI; daughter Linda (Evan) Schmeling of rural Hayfield, MN; eight grandchildren and 10 great-grandchildren. He was preceded in death by his parents, 3 brothers and 1 grandchild.
The funeral service will be Tuesday, May 24, 2011, at 1:30 pm at The West St. Olaf Lutheran Church, 70640 – 260th Avenue, Hayfield, MN with Pastor Darby Lawrence officiating. Visitation will be at the church on Monday, May 23, from 5:00-7:00 pm and 1 hour prior to the service on Tuesday.
Click Here to Leave a Comment
Posted in Obituaries |