2
Tuesday, July 19th, 2011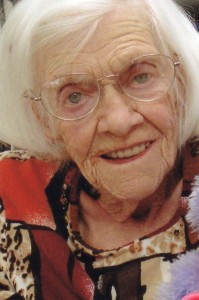 Dorothy Wyatt, 92, passed away Monday, July 18,2011 at Fairview Care Center, Dodge Center, Minnesota.
Dorothy was born January 30, 1919 to William and Hattie Zuhlke of rural Stewartville, MN. She married Francis Wyatt on October 17, 1938 of rural Racine, MN. He preceded her in death on October 15, 1984. They farmed for many years on the family farm in rural Kasson, MN. Dorothy also worked for Sears as a cook at the lunch counter.
Her other interests were volunteering at church, traveling, camping and cooking. She loved vacations with her family. Special thank you to Fairview Care Center staff for taking such good care of Dorothy.
Dorothy is survived by son Frank (Sandra) Wyatt; daughter Shirley (Gary) Thorn; grandchildren Jennifer Thorn, Jeremy Thorn, Joshua Thorn, Andrew Wyatt and Christopher Wyatt; and two great-grandsons. In addition to her husband, she was preceded in death by a son, Gerald Wyatt, daughter-in-law Sandra Wyatt, grandson Francis Milo Wyatt and sister Mildred Evenson.
Funeral services will be 11:00 am on Friday, July 22, 2011 at St. John's Lutheran Church, 301 – 8th Avenue NW, Kasson, MN. Friends and family may visit from 5:00-7:00 pm on Thursday, July 21, and one hour before services at St. John's Lutheran Church in Kasson. Interment will be at Maple Grove Cemetery in Kasson.
Click Here to Leave a Comment
Posted in Obituaries |