2
Saturday, August 13th, 2011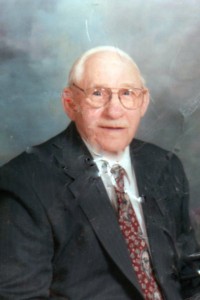 The funeral for Arthur Jensen of Kasson, Minnesota will be 10:30 AM, Tuesday, August 16, 2011 at St. John's Lutheran Church, 301 – 8th Avenue NW, Kasson, Minnesota with Pastor Randy Fett officiating. Visitation will be one hour prior to the service on Tuesday. Interment to follow at Maple Grove Cemetery, Kasson, Minnesota.
Arthur entered the arms of his Lord August 12, 2011. Arthur was born October 26, 1916 in rural Cedar Falls, Iowa to Ray and Anna Jensen. He graduated from New Hartford High School in 1933. Art worked as a farm hand and operated his own trucking business. Art married Elizabeth Madsen in November, 1943 at Fredsville Lutheran Church, rural Cedar Falls. Art and Liz farmed in the Cedar Falls area until 1957 when they purchased a farm and moved to Grand Meadow, Minnesota. Art worked for IBM Corporation from 1958 until retirement in 1982. Art and Liz moved to Kasson in 1964.
Art was a member of St. John's Lutheran Church, the Byron Lions Club and Eagles Club in Rochester. Art enjoyed time with friends and family, playing cards, traveling, gardening, and fishing as well as time with friends and family. He is survived by three sons, Herb (Eileen) of Byron, MN, Glen (Cathy) of Winona, MN and Terry (Mary) of Owatonna, MN; one sister, Francis Rittgers (Don) of New Hartford, Iowa; 8 grandchildren and 14 great-grandchildren. He was preceded in death by his wife, parents and four brothers.
Memorials are preferred to Fairview Care Center, 702 – 10th Avenue NW, Dodge Center, MN 55927 or St. John's Lutheran Church.
Click Here to Leave a Comment
Posted in Obituaries |