5
Monday, January 30th, 2012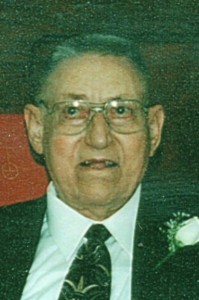 Ralph Clarence Helmbrecht, 99, of Hayfield, passed away on Saturday, January 28, 2012, at Prairie Manor Nursing Home in Blooming Prairie, of natural causes.
Ralph was born on July 1, 1912, at his parent's home in Ashland Township. He graduated from Dodge Center High School on July 1, 1924. He worked with his father and two brothers on the family farm until 1941 when he entered the United States Army. He served during World War II in the Aleutian Islands in Alaska. After being discharged from the Army in 1945, he married Phyllis Wyttenbach on September 1, 1946. They moved to another farm about one mile from his parent's farm. He farmed in partnership with his father and two brothers until they retired from farming in 1978. Ralph loved to fish, hunt and bowl. Ralph served as a Dodge County Commissioner for 12 years, which he enjoyed very much. He was a leader of the Super Jets 4-H Club for many years. He was a member of First Baptist Church in Kasson, Minnesota.
He is survived by his four children, Royce and Karen Helmbrecht of Austin, MN, Stephen and Donalyn Elliott of Dallas, Texas, Dale and Susan Queensland of Grand Meadow, and Bruce and Shirley Helmbrecht of Stilwell, Kansas. He is also survived by 12 grandchildren and 18 great-grandchildren.
He was preceded in death by his wife, Phyllis, in 1999, and his two brothers, Everett (1967) and Harley (1986).
The celebration of Ralph's life will be held with a visitation beginning at 9:30 am on Saturday, February 11, 2012, at the First Baptist Church, 304 – 4th Street NW, Kasson, MN, followed by the funeral service at 10:30 am. Pastor Dale Phelps will officiate. Burial will be at Maple Grove Cemetery in Kasson, Minnesota.
We thank the Lord for Ralph's rich life on earth, and we know he is enjoying his entry into Heaven.
Click Here to Leave a Comment
Posted in Obituaries |