5
Helen M. "Sue" Sogge ~ 1940-2012
January 17th, 2012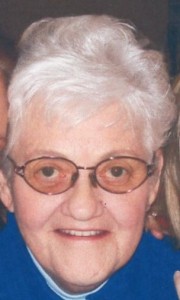 Helen Marlene Zwemke Sogge, known to many as Sue, 71, of Kasson, passed away late in the evening of January 16, 2012 at Fieldcrest Care Center in Hayfield, MN after bravely fighting a two-month battle with pancreatic and lung cancer.
Sue was born in Willmar, MN on July 23, 1940. She graduated from Willmar High School and received her teaching degree from Mankato State in 1962. On April 12, 1963, she married Truman Sogge, then of Spicer, MN.
She is survived by her husband Truman; daughters, Heather (Troy) Winkels of Rochester, and Heidi (Brian) Brasher of Starkville, Mississippi; her mother, Margy Johnson of Kasson; sister, Faith Zwemke of Shoreview, MN; and grandchildren Mikayla Winkels, Shauna Winkels, Troy Robert Winkels, Ellie Brasher and Gibson Brasher.
There will be a visitation Friday, January 20, at the First Baptist Church, 304 – 4th Street NW, Kasson, at 1:00 pm with a Celebration of Life Service to follow at 2:00 pm. There will be no reviewal.

This entry was posted on Tuesday, January 17th, 2012 at 3:04 pm and is filed under Obituaries.