5
Friday, February 17th, 2012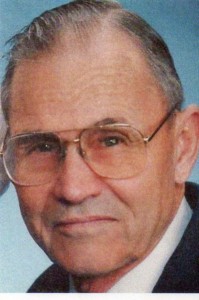 Floyd Lee Foote, 81, of West Concord, Minnesota went to be with his Lord and Savior on Wednesday, February 15, 2012 at Veterans Hospital in Minneapolis, Minnesota.
Floyd was born May 12, 1930 in Benedict, NE, the son of Alpheus and Velma (Trussel) Foote. He was united in marriage to Orpha Luetta Harrison on August 21, 1949. He entered the Marine Corp in 1951; attended basic training and sea school in San Diego, CA and then was stationed on the aircraft carrier USS Valley Forge. He served two years active duty during the Korean War, then served 6 years inactive reserve and was honorably discharged on October 22, 1959.
Floyd farmed on the family farm in Benedict, NE until moving to Minnesota in 1963. He continued his farming in MN until retiring in 1978. He enjoyed woodworking and traveling in his motorhome. Floyd and Orpha visited all 50 states in their travels. He also enjoyed spending time with his family and was an active member of the First Baptist Church of Kasson.
Floyd is survived by his wife Orpha; five children, Denton (Jeanne) of Parker, SD, James (Christine) of Kasson, Mn, Christine (Marvin) Cox of Houston, MN, Kathleen (Douglas) Meyer of Austin, MN, and Steven (Sandra) of West Concord; sixteen grandchildren; twenty-two great-grandchildren; one sister, Althea (Stanley) Harrison of Fairmont, NE; many nieces, nephews, cousins and friends. He was preceded in death by his parents, four brothers, one sister, one grandson, Jeremy Cox and one great-granddaughter, Isabel Cox.
The funeral service will be Monday, February 20 at 1:30 pm at First Baptist Church, 304 – 4th Street NW, Kasson, MN with Pastor Dale Phelps officiating. Interment will be at Concord Cemetery. Visitation will be at the church on Sunday afternoon from 4:00-6:00 pm and one hour prior to the service on Monday.
Click Here to Leave a Comment
Posted in Obituaries |