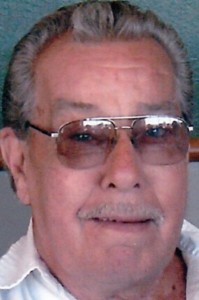 Lyle Stewart Severson, 77, of rural Kasson died Thursday, May 10, 2012 at his home after a six year illness with multiple cancers and emphysema.
Lyle was born August 4, 1934 to Oscar A. and Irene M. Severson at home on his family farm near Oslo (Hayfield), MN. He attended Hayfield High School. He joined the U.S. Army in February, 1954 thru February, 1956 stationed in Riverside, California.
He married Judith Ann Fryer on May 18, 1958 at the Congregational Church in Mantorville, MN. Lyle and Judy had one son, Jay Michael Severson.
Lyle worked at IBM for nearly 5 years. He built their home in rural Kasson; moving in July, 1961 and they still live there today.
Lyle's passion was trucking and he bought his first semi in 1962. He started Severson Transport in 1969, which he dissolved in 1992 to retire, but he kept one semi and leased to Wilson Refrigerated (now Lawrence) for 13 more years until his health required him to give up trucking in November, 2008 and his PURPLE TRUCK that everyone knew. Lyle also enjoyed restoring tractors and was a good mechanic. He loved taking care of his huge lawn. He enjoyed spending some time in Florida each winter with many friends. He loved the coffee crowd and the breakfast club.
He is survived by his wife, Judy; one son, Jay M. Severson and his wife, Christine; one niece, Tamara (David) Johnson and their children and grandchildren; two special brothers-in-law, John (Ligia) Fryer and Robert (Nancy) Fryer and many nieces and nephews and their children and many cousins. He was preceded in death by his parents and one sister, Joan (Donald/Toby) Phelps.
Funeral services will be held at 11:00 am on Wednesday, May 16, at Christ Lutheran Church, 201 Frontage Road, Byron, MN, with Rev. Steve Rheingans officiating. Friends and family may visit from 5:00-7:30 pm at the Dibble Funeral Home, 213 W. Main St, Kasson, MN on Tuesday, May 15 and one hour prior to the funeral service at the church. Interment will be in Evergreen Cemetery in Mantorville.
In lieu of flowers, the family wishes memorials to Christ Lutheran Church in Byron, Trinity Lutheran Church in Hayfield, The Dodge Center/KM Volunteer Ambulance Service, The Kasson American Legion or Mayo Hospice.
Blessed be his memory.
Click Here to Leave a Comment
Posted in Obituaries |