8
Thursday, August 30th, 2012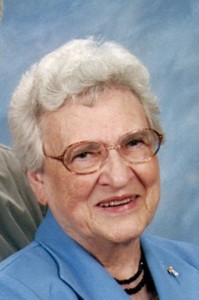 Evelyn Jane Manthey, 86, of Byron, Minnesota, passed away on Wednesday afternoon August 29, 2012. Evelyn was born on August 8, 1926, to Erwin and Caroline Lena Reinhardt in the Reinhardt family farmhouse in New Richland, Minnesota on a 100-degree summer day. She was the beloved wife of Willard (Bill) Arthur Manthey for 58 years.
Bill and Evelyn owned and operated their family grocery business, "Bill's Foods" in Byron, MN for 24 years; from 1968-1992. They raised their family with a strong work ethic and a sense of humor.
Evelyn's family was her greatest joy and blessing. She was the proud Mom of four children; Michele (Fred) Saack of Rochester, MN, Wayne (Laura) Manthey of Minneapolis, MN, Gayle (Ron) Strain of Savage, MN and Dawn (Dan) Campion of Byron. She was also the proud and attentive grandma to seven amazing granchildren: Reid (and his wife, Jessica), Kali and Megan Strain; Nick (Ashley) Manthey; Melissa (Nick) Ebnet; and Lucas and Chandra Campion. Evelyn and Bill's three great-grandchildren are Destyni and JJ Manthey and Kloie Ebnet.
Evelyn was a member of Christ Lutheran Church of Byron as well as a member of the American Legion Women's Auxillary in Byron.
Funeral services will be held at 11:00 am on Tuesday, September 4, 2012 at Christ Lutheran Church, 201 Frontage Rd NW, Byron, MN with Pastor Steve Rheingans officiating. Visitation will be one hour prior to the service at the church. Burial will be in the Byron Cemetery.
In lieu of flowers, the family prefers memorials to Christ Lutheran Church of Byron.
Click Here to Leave a Comment
Posted in Obituaries |