0
Friday, September 28th, 2012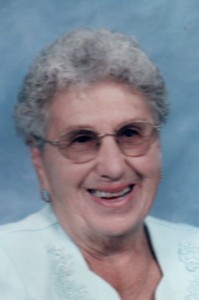 June E. Vangness, 84, of Kasson passed away Thursday, September 27, 2012, at Fieldcrest Care Center in Hayfield, MN, where she had been a resident since December, 2011.
June was born June 17, 1928, in Dodge Center, MN to Theodore and Ida Keller. She graduated from Dodge Center High School in 1946 and married Kenneth R. Vangness of West Concord on her 18th birthday, June 17, 1946. They lived in West Concord until 1956 when they moved to Kasson. They recently celebrated their 66th wedding anniversary.
She is survived by her husband, Kenneth; three sons, Roger (Karen), LuVerne (Cathy), and Steven; five daughters, Jean, Pat (Gary) Olevson, Beverly (Dan) Harris, Sandra (Dean) Solberg and Sheryl (Chuck) Finger; 17 grandchildren, 20 great-grandchildren and numerous nieces and nephews.
She was preceded in death by her parents; six brothers, Lawrence, Carl, Wilbur, Clifford, Floyd and Theodore, Jr.; and five sisters, Ruth Klampe, Mabel Saxton, Leota Vogelsand, Winifred Hammon and Velma Alrick.
June spent her life raising eight children and, for a time, worked as a dietary aide at the Fairview Nursing Home in Dodge Center. She was a wonderful cook, loved growing flowers and vegetables and maintained a colorful and productive garden for many years. She was delighted to see her grandchildren and great-grandchildren and always had a big smile for them.
Funeral services will be held on Tuesday, October 2, at 2:00 pm at St. John's Lutheran Church, 301 8th Ave NW, Kasson with Pastor Randy Fett officiating. Visitation will be held Monday, October 1, from 5:00-7:00 pm at St. John's Lutheran Church and one hour prior to the service at the church on Tuesday.
The family prefers memorials to them for distribution later per their wishes.
Click Here to Leave a Comment
Posted in Obituaries |