1
Evelyn Musolf ~ Kasson
November 5th, 2012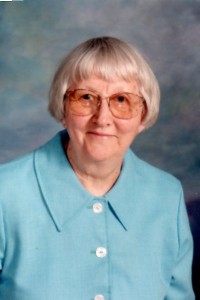 Memorial services for Evelyn Ruth Musolf will be held at 2:00 pm on Friday, November 9, 2012, at St. John's Lutheran Church, 301 – 8th Ave NW, with Pastor Randy Fett officiating. Visitation one hour prior to the service. Burial will be at Evergreen Cemetery in Mantorville.
Evelyn, age 92, died Sunday, November 4, 2012, at Prairie Meadows in Kasson. Her body was cremated.
Evelyn was born on March 30, 1920, in Farmington Township, Wisconsin, to Andrew and Emily (Olson) Larson. She was raised near Mindoro, Wisconsin and graduated from Mindoro High School in 1937. She married Ivan A. Musolf on November 6, 1940, in Kasson. Ivan and Evelyn lived in the Kasson area for a short time, moved to LaCrosse for a few years, returned to Kasson and resided there since 1951. Evelyn was employed by Leuthold's Shoes in Kasson for approximately 35 years prior to her retirement.
Evelyn is survived by her daughter, Jeannine (Bruce) Allen, of Mantorville; her grandson, Jason Andrist, of Mantorville; her great-grandchildren, Kassidy, Max and Megan Andrist of Rochester; one step-grandchild and five step great-grandchildren; her sister, Lyla Wilcox, of Waseca, and several nieces and nephews.
She was preceded in death by her husband, Ivan, in 1989; her son-in-law, Mark Andrist, in 1985; two brothers, Ansel Larson and Earl Larson; and her sister, Verna Stevenson.
In lieu of flowers, memorials are preferred to St. John's Lutheran Church.

This entry was posted on Monday, November 5th, 2012 at 5:02 pm and is filed under Obituaries.