4
Friday, December 21st, 2012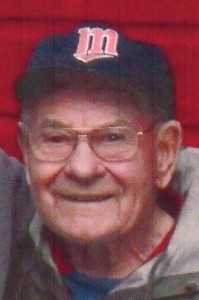 Ervin D. Marti died peacefully in his sleep at Seasons Hospice in Rochester from complications of COPD. He was born October 8, 1917 to William and Hattie Marti on the family farm near Kasson. He attended and graduated from Kasson Schools in 1935. In 1936, he enrolled at the National Schools of Los Angeles in the diesel and gas engine programs. Due to the depression, he was unable to find work in California so he returned to Minnesota and enlisted in the Civilian Conservation Corps, Company 2709 at Plainview. He worked on trucks, dozers and rock crushing equipment until April 1938. He was employed at various shops and garages until December 30, 1941 when he married Verna Solberg.
Together they raised two daughers, Kay and Vicki, and one son, Don. They moved back to the family farm and farmed alongside his brother, Clinton, growing canning crops, corn, hogs and beef cattle. In 1952, he bought out his brother's share and changed to cash crops of corn, beans, hay and oats. In the late 1950's, he became the Pioneer Seed dealer for this area and remained farming and selling seed until his retirement in 1985. In February, 1971, he lost Verna to ALS.
On January 5, 1974, he married Ardis Graves and moved to Rochester to be with the new additions to his family; Sherry, Kanneth, Sheila and Sharon.
He loved dancing and fishing during his freetime, and spending summers at the cabin in Northern Minnesota. He enjoyed conversations with friends and family about a variety of topics.
He is survived by daughters, Vicki Kleeberger of Richfield, MN, Sherry Fields of Rochester, MN, Sheila Larson of Zumbrota, MN, Sharon (David) Furth of West St. Paul, MN; sons, Don (Linda) of Kasson, MN, Kenneth (Dana) Graves of Golden Valley, MN; 12 grandchildren and 14 great-grandchildren.
He was preceded in death by his parents, his first wife, oldest daughter, Kay, and a brother.
Memorial funeral services will be held on Saturday, December 29, 2012 at 11:00 am at the United Methodist Church, 801 5th Ave NW, Kasson, MN, with Pastor Karen Seavey officiating. Visitation will be held at the church on Friday, December 28, from 5:00-7:00 pm and one hour prior to the service on Saturday.
Memorials are preferred to Seasons Hospice, Rochester, Minnesota.
Click Here to Leave a Comment
Posted in Obituaries |