3
Tuesday, August 27th, 2013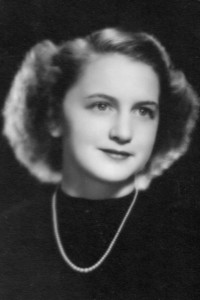 A. Patricia Zimmerman of Hayfield, MN died from heart failure on August 25, 2013 with family by her side. Born August 23, 1925 in Okmulgee, OK. The family lived in southern Illinois during her young adult life.
She treasured her education, attending both Lindenwood College and Washington University. She taught library science in Lake Forest, Ypsilanti, and the University of Minnesota.
Pat married Ken Zimmerman in 1959 and moved to Anoka, MN where they raised their children Herb (Maureen), Gordon (Abby), Kathy Connelly (Kevin), and Trish Beckman (Chris).
The Episcopal Church, quilting, knitting, gardening, books, birds and family, especially her children and grandchildren were dear to her.
She was preceded in death by her brother, John J. Callahan, Jr. and husband Kenneth G. Zimmerman. She is survived by four children and eight grandchildren (Ryan, Kate, Meghan, Urban, Leo, Max, Kennedy and Saylor).
A memorial service will be held at St. Peter's Episcopal Church, 101 First St. NE, Kasson, MN on Monday, September 2, 2013 at 11:00 am with Fr. Colin Snow Maltbie officiating. Visitation will be one hour prior to the service at the church. There will be no reviewal. Interment will be at Ft. Snelling National Cemetery at a later date.
In lieu of flowers, the family prefers memorials to St. Peter's Episcopal Church.
Click Here to Leave a Comment
Posted in Obituaries |