5
Monday, January 27th, 2014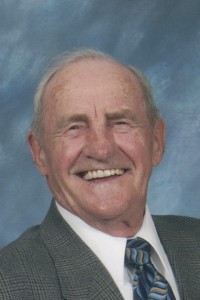 A memorial service for Garold C. Bond will be at 2:00 p.m. Saturday, February 1st at the Christ Lutheran Church, 201 Frontage Road NW, Byron, MN with Pastor Steve Rheingans officiating. There will be a visitation (no viewing) at Christ Lutheran Church one hour before the service. Burial will be at a later date in Zumbro Falls at the Pleasant Prairie Dale Cemetery. Military graveside services in the spring will be conducted by the Byron American Legion.
Garold Bond 87, of Byron died Wednesday (January 22, 2014) at Golden Livingcenter West in Rochester. Garold Charles Bond was born October 2, 1926, in Osage, Iowa. The family moved to the Austin area in 1932. He attended Austin High school. He enlisted into the Air Force in 1946, served in World War II and was Honorably Discharged in 1949. He married Marian Underdahl in 1952, they moved to the Byron area in 1962. Marian died in 1982. He married Henrietta Kennedy in 1986.
Garold was a life-long farmer. He worked at Sears in Rochester, retiring after 27 years. After retirement, he was a crossing guard in the Rochester School District, and had also worked at Kwik-Trip in Byron. He enjoyed the farm, being outdoors and visiting with people. He was a member of Christ Lutheran Church and the American Legion in Byron. Survivors include two daughters; Gail (Tom) Knopp of Eureka Springs, AR, and Debra Bond of Winona, MN, one son; Russ Bond of Byron, MN, two step children; Marilyn (Mike) Wiebusch of Zumbro Falls, MN and Tim (Pam) Kennedy of Zumbro Falls, MN; 7 Grandchildren and 10 Great-Grandchildren. He was preceded in death by a wife, two brothers and three sisters.
In lieu of flowers, memorials are preferred to Seasons Hospice – Rochester or Christ Lutheran Church – Byron. Dibble Funeral Home and Cremation Service in Kasson is in charge of arrangements. On-line condolences at www.dibblefuneralhome.com.
Click Here to Leave a Comment
Posted in Obituaries |