7
Wednesday, February 5th, 2014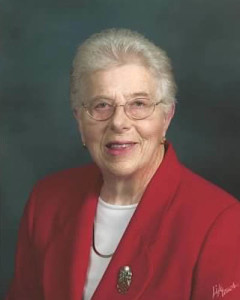 Funeral services for Hazel M. Engelstad will be at 11:00 a.m. Saturday at St. John's Lutheran Church in Kasson with Rev. Randy Fett officiating. Burial will be in Evergreen Cemetery in Mantorville.
Hazel, 92, a longtime resident of the Kasson area, died of natural causes on Monday (February 3, 2014) at Fairview Care Center in Dodge Center.
Hazel Margaret Ankeny was born to Irvin George and Maude Sarah (Cheatle) Ankeny on August 3, 1921 on the family farm near Blue Earth in Faribault County, Minnesota. When she was 2, the family moved to a farm near Winnebago, also in Faribault County, where she grew up with 3 older and 3 younger siblings. Hazel graduated from Winnebago High School in 1939, graduated from Normal School in Blue Earth, taught at 3 country school districts, attended the University of Minnesota, and was hired as the 4-H Club Agent in Dodge County. While there, she met and later married Ralph Benton "R.B." Engelstad on September 30, 1944.
Hazel and Ralph lived in the Kasson and Mantorville area for their entire married life and raised 3 sons and 3 daughters. Hazel was an engaged member of the Kasson-Mantorville community, St. John's Lutheran Church, and various charitable organizations. Her husband Ralph passed away on April 11, 2006, after nearly 62 years of marriage.
Hazel is survived by sons, Wendell (Diane) of Owatonna and Daryl (Sara) of Kasson; daughters, Shirley (Daryl) Deno of Blackduck, Carol (Dan) Nable of Cumming, GA, Janet (Mark) Rendler of Pleasant Prairie, WI, and daughter-in-law Robyn Hammond of Fort Collins, CO; sister, Cecil Carroll; brothers, John Ankeny and Gordon Ankeny; 14 grandchildren and 14 great-grandchildren. She was preceded in death by husband Ralph, son Milo, brothers Harlan Ankeny and Edward Ankeny, sister Ruth Milbrandt, and her parents.
Visitation will be Friday, February 7 from 5 to 7 p.m. at St. John's Lutheran Church in Kasson and one hour before the service at the church on Saturday. The family would prefer memorials to St. John's Lutheran Church, the American Cancer Society, or the charity of your choice.
Click Here to Leave a Comment
Posted in Obituaries |