6
Sunday, March 30th, 2014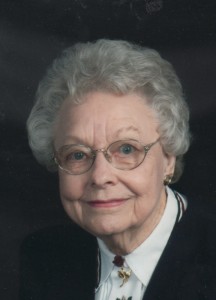 Clara Lucille Erickson Brekke of Kasson was called home to our Lord and Savior on March 28, 2014 at North Memorial Hospital in Robbinsdale, MN. Clara was born the youngest child to Rangvold and Alma Erickson in Rock Dell, MN on December 9, 1919.
She was married to Richard L. Brekke on December 31, 1938 at East St. Olaf Lutheran Church in Rock Dell, MN. They farmed in the Rock Dell area until 1953 when they moved to Kasson and raised four children.
Clara was preceded in death by her parents; her husband, Richard; three sisters Genevieve Anderson, Bernie Gates Parkin, Ruby Matzke and brother Lloyd Erickson. Clara is survived by four children, Philip (Donna) of Battle Ground, WA, William (Maria) of Copenhagen, Denmark, Thomas (Judi) of Avon, MN and Joyce (Stephen Pierren) of New Hope, MN. Clara has 11 grandchildren, 17 great-grandchildren and one great-great grandchild and many nieces and nephews across the United States and in Europe.
Clara was an avid golfer. She worked as a registered dental assistant for Dr. L. Serverance at the Kasson Dental Clinic and served St. John's Lutheran Church in many capacities, including Past President of WELCA.
Funeral services will be held at 11:00 AM on Thursday, April 3, 2014 at St. John's Lutheran Church, 301 8th Ave NW, Kasson, MN with Pastor Randy Fett officiating. Visitation will be one hour prior to the service at the church. Burial will be at the East St. Olaf Lutheran Cemetery, Rock Dell, MN at a later date.
In lieu of flowers, the family prefers memorials to the church.
Click Here to Leave a Comment
Posted in Obituaries |