9
Monday, April 21st, 2014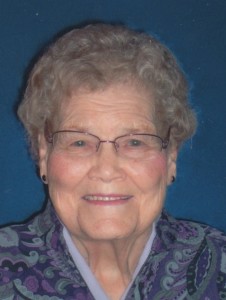 Lorraine May Aarsvold, a lifetime resident of rural Kasson, died peacefully on Saturday, April 19, 2014, at her daughter and son-in-law's home in Lonsdale, Minnesota. She was born on July 14, 1925, to Ole and Lily Gunderson. She graduated from Kasson High School in 1942 and then attended Mankato Business College. While still taking courses at Mankato, she received a job offer from Kenneth Myster, Attorney-at-Law, in Kasson. She worked at Mr. Myster's office until her marriage in 1945 to Wallace Aarsvold, her childhood friend and neighbor who later became her sweetheart.
In 1946, they were blessed with the first of their five children, and later that year they bought the farm which remained their home for the rest of their lives. After the children started school, Lorraine went back to work for Mr. Myster, working a total of 17 years before retiring from that job. She continued to farm with her husband until they retired from farming in 2007.
Lorraine was very active in her church (South Zumbro), where she taught Sunday School, served on the church council as Treasurer, and was active in Ladies Aid. She was an inspiration to those who knew her, and was known for her fun spirit, her beautiful smile, and her active concerns for others.
Lorraine was preceded in death by her parents, her husband of nearly 64 years, three brothers-in-law, two sisters-in-law, a niece and two nephews. She is survived by her children: Wayne (Mary Kathryn) Aarsvold of Kasson, Lois (John) Burdick of Phoenix, AZ, Joe (Pat) Aarsvold of Lakewood, CA, Janet (Sam) Lotegeluaki of Lonsdale, MN, and Todd Aarsvold of Kasson, MN and by grandchildren Paul (Val) Aarsvold of Plainview, MN, Chris (Terri) Burdick of Lakeville, MN, Chad (Tammy) Burdick of Council Bluffs, IA, Nicole (Mike) Halda of Rochester, MN, Erin Aarsvold of Los Angeles, CA, Danielle, Emily and Hayley Aarsvold of Lakewood, CA, Stanley Lotegeluaki of Pittsfield, MA, Jonathan Lotegeluaki of Tomah, WI, Eunice Eddington of Milwaukee, WI, Grace Lotegeluaki of Milwaukee, WI, Naakaki (Ray) Texerira of Eagan, MN, Amani (Cara) Lotegeluaki of Milwaukee, WI, Joseph (Tyanna) Lotegeluaki of Sun Prairie, WI and Brooklyn and Jakob Aarsvold of Kasson, MN. She is also survived by 24 great-grandchildren, 2 great-great grandchildren, her brother Gordon (Ellen) of Mora, MN, one brother-in-law, three sisters-in-law, and many nieces and nephews.
Her family will dearly miss her and will remember her beautiful smile, her listening ear, her gentle touch, her kind heart, her wise counsel, and the interest she showed in their daily lives.
Visitation will be on Thursday, April 24, 2014 at the South Zumbro Lutheran Church, 4830 – 120th Avenue SW, Kasson, MN, from 5:00-7:00 pm and one hour prior to the service on Friday. Funeral services will be at 11:00 am, Friday, April 25, 2014, also at South Zumbro with Pastor David Steffenson of Emanuel Lutheran Church, Rochester, MN, officiating. Burial will follow the service in the church cemetery.
In lieu of flowers, the family suggests memorials to the South Zumbro Lutheran Church Memorial Fund or the charity of the donor's choice.
Click Here to Leave a Comment
Posted in Obituaries |