2
Monday, November 24th, 2014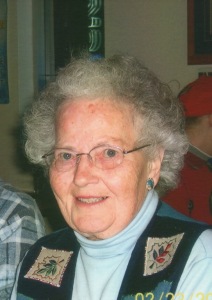 Dorothy Ruth Johnston, 89, of Hayfield, MN passed away Sunday, November 23 at St. Mary's Hospital in Rochester after a short illness.
Dorothy was born June 2, 1925, in Eagle Valley, MN to Ralph and Laura Kirkland. Dorothy married Rhonald Johnston on February 26, 1950. She farmed with her husband in the Blooming Prairie, Dodge Center and Concord areas.
She was employed at Waters Instruments in Rochester and Fold Craft in Kenyon, MN. After retirement, she loved to garden, travel, quilt, paint and go to auto races as well as spend time with family and grandchildren. She was a member of the United Methodist Church altar society, West Concord Legion Auxiliary, Dodge County Legion Auxiliary. She made many quilts for the Ronald McDonald House, area nursing homes and several charities.

She is survived by her children Barb (Tom) Threinen of Mantorville, Rhonda (Dwight) Hvitved of Goodhue and Bonnie Johnston of Lompoc, CA; seven grandchildren and 11 great-grandchildren.
She was preceded in death by her husband, Rhonald, her parents, sister, brother and two sons, Charles and Rodney.
Visitation will be Wednesday, November 26 from 9:00-10:30 AM with funeral services following at 11:00 AM at the United Methodist Church, West Concord, MN with Pastor David Westlake officiating. Burial will take place in the Spring at Concord Cemetery in Old Concord, MN. There will be no reviewal.
Dibble Funeral Home & Cremation Service is in charge of arrangements. Online condolences may be shared at www.dibblefuneralhome.com.
Click Here to Leave a Comment
Posted in Obituaries |