5
Wednesday, December 31st, 2014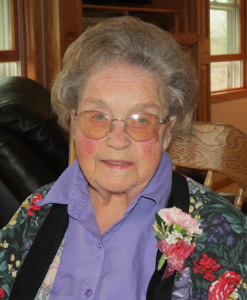 Twila A. Goodman, 86, of Kasson, died Sunday, Dec. 28, 2014, at Saint Mary's Hospital of natural causes. 

Twila was born in Rochester on Dec. 28, 1928, the daughter of John and Helen Nelson. Twila graduated from Byron High School in 1947. She married Charles Edward Goodman of Byron on June 8, 1947. They were married for 64 years and had five children. Twila worked as a telephone operator on the switchboard in Byron. She worked at Erdman's grocery store in Mantorville. She then went to work at the Dodge County Courthouse for 26 years. Upon her retirement, she enjoyed being president of the TOPS club in Kasson, and was an active member at St. John's Lutheran Church in Kasson. Her last few years she thoroughly enjoyed her time as secretary at the Sunwood Senior Citizens Center in Kasson, visiting and sharing meals with friends, playing cards and bingo!

She is survived by two sons, John Charles (Lynda) of Mantorville and James Allan (Teresa) of Hayfield; two daughters, Judy Ann Goodman of Byron and Jean Marie Goodman of Byron; nine grandchildren; 19 great-grandchildren; seven great-great-grandchildren; her brother, Virgil Nelson of Rochester; and sister, LaVonne Ermeloff of Oronoco.

She was preceded in death by her husband, Charles E. Goodman; her parents, John and Helen Nelson; son, Joel Edward Goodman; brother, Jarl Nelson; and two sisters, Darlene Strain and Shirley Ann Nelson.

Funeral services will be held Monday, Jan. 5, 2015, at 11 a.m. at St. John's Lutheran Church, 301 Eighth Ave. NW in Kasson, with Pastor Nirmala Reinschmidt officiating. Burial will be at Pleasant Prairie Cemetery in rural Rochester. Visitation will be one hour before the service.
Click Here to Leave a Comment
Posted in Obituaries |