6
Sunday, April 26th, 2015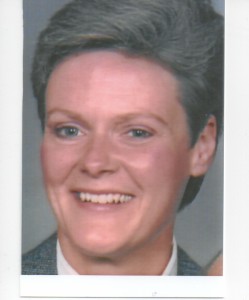 Sue Ann Carol Ness, 61, of Mantorville, died peacefully on April 24, 2015, at the home of Tony and Monica Brossard in rural Pine Island.

Ms. Ness was born on April 23, 1954, in Rochester to Stanley and Alice (Boyum) Ness.

She graduated from Kasson-Mantorville High School in 1972. Sue Ann continued her education at the University of Minnesota, where she earned a Bachelor of Science Degree in Nursing with high distinction on June 10, 1978.

Sue Ann had a passion for horses, which included watching harness racing. She also loved selling lefse on Saturday mornings at the Rochester Downtown Farmers' Market. She was a member of St. John's Lutheran Church, where weekly she enjoyed quilting and fellowship.

Sue Ann is survived by two brothers, Sterling (Sue) and Tom (Mary Adam); nephews, Todd (Jeri) Ness, Craig (Victoria Hale) and Tim Ness; great-nephews, Zachary, Joshua, Cody, and Coltan; great-niece, Morgan and loving aunts, uncles, cousins and close friends. She was preceded in death by her parents.

Visitation will be at Dibble Funeral Home, 213 W. Main St., Kasson, MN, on Tuesday, April 28, from 5:00-7:00 pm and at St. John's Lutheran Church, 301 8th Ave NW, Kasson, MN, on Wednesday from 10:00-11:00 am. Funeral services will be held Wednesday, April 29, at 11:00 am at St. John's Lutheran Church with Pastor Randy Fett officiating. Burial will follow at South Zumbro Lutheran Church in rural Kasson.

Memorials are preferred to the donor's choice.
Click Here to Leave a Comment
Posted in Obituaries |