4
Thursday, January 28th, 2016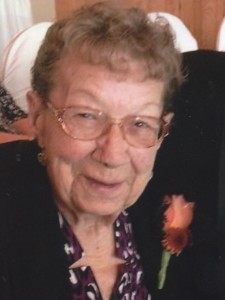 Darlene J. (Peggy) Poffenberger, 87, of Kasson passed away Tuesday, January 26, 2016, at Fairview Care Center in Dodge Center, MN.

Darlene was born September 13, 1928 in Fairmont, MN to Virgil and Florence (Simpson) Louks. She grew up in the Hayfield area.

Darlene worked as a cook for several different establishments in the Kasson-Mantorville area; the Country Club, Drive-In and Haven's Bakery. Darlene also enjoyed painting and wallpapering, gardening, playing cards, checkers and cooking.

Darlene married Clifford (Bud) Poffenberger on April 16, 1949. Darlene had two children, Randy and Gail Poffenberger.

Darlene is survived by her son, Randy Poffenberger (Kim Lewis) of Kasson; grandchildren Jolynn, Lisa, Ben, Kassie, Krissie, Travis, Kelcie; 7 great-grandchildren; sisters, Vivian (Leonard) Westin of Dexter, MN, Verta of Rushford, MN, Mary Hegna of Dodge Center, MN, Linda (Danny) Brockmiller of Hayfield, MN, Pat (Tony) Distad of Arizona; brothers Dick (Jean) Louks of Mantorville, MN, Jerry (Arlene) Louks of Owatonna, Terry Louks and Butch Louks of Park Rapids, MN; and several nieces, nephews, and great-nieces and nephews.

Darlene was preceded in death by her husband, Clifford (Bud); parents Virgil and Florence; son Gail; sisters Judy, Betty, Bonnie, Audrey and Grace; and brothers Bill, Wayne, Bob, Kenneth and Jim.

The funeral service will be held February 6, 2016, at 11:00 am at St. John's Lutheran Church, 301 8th Ave NW, Kasson, MN with Pastor Dana O'Brien officiating. Visitation will be one hour prior to the service at the church. There will be no reviewal. Inurnment will be at Maple Grove Cemetery, Kasson, MN at a later date.
Click Here to Leave a Comment
Posted in Obituaries |