1
Monday, September 12th, 2016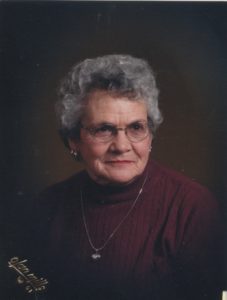 The funeral for Iva A. (Chilson) King will be Friday, September 16 at 11:00 am at The Byron United Methodist Church, 708 4th Ave. NW, Byron, MN. Visitation will be at the church one hour prior to the funeral service.

Pastor Beth Perez will officiate. Burial will be at Mount Hope Cemetery near Byron.
Iva died Saturday, September, 10, 2016, at Madonna Towers in Rochester.
Iva was born August, 16, 1925, in rural Olmsted County. She was baptized at the Byron United Methodist Church with her Mother.

Iva, 91, of Byron, was an active member of Byron Methodist Church. When asked if she ever felt that God had a special calling on her life, she replied, "yes, as a caregiver to the elderly members of my family. Plus I felt good helping other people".

She enjoyed all sports when watching her family participate. She enjoyed crocheting, embroidery and traveling. Her favorite destination was Hawaii with family members. Iva loved to " visit " and had many a conversations.

Survivors include three daughters, LaLonnie Voll (Donald), Loah Nelson (Bob), Laya Morris (Kevin); two sons, Larry "Bear" King (Mary), Monte King (Kathryn); 10 grandchildren; 21 great-grandchildren plus 1 arriving in April, 1 great, great-grandchild, plus many nieces and nephews. She is also survived a brother Cecil Chilson (Shirley).

She was preceded in death by her parents, husband Laurence, grandson Jeff Voll, great granddaughter Hannah Voll , special aunt Melissa Ames, sister Lilah Worth, and brother Arbey Chilson.
Click Here to Leave a Comment
Posted in Obituaries |