3
Monday, July 17th, 2017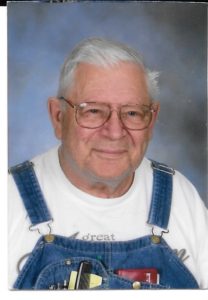 Richard L. Finley, 89, of Mantorville, passed away peacefully July 16, 2017 at Fiarview Care Center in Dodge Center, MN.

He was born on March 5, 1928 in Rochester (Olmsted County). His parents were Harry and Sena (DeVries) Finley of Douglas. He graduated from the Douglas area school with an 8th grade education. He married Ella Dohrmann on September 14, 1947 in Pine Island. They were married 59 years and together had eight children whom they raised on a farm in rural Kasson.

Richard worked as a Mantorville police officer, farmer, ambulance driver, truck driver, and bus driver (school, coach, shuttle). He enjoyed square dancing, playing cards, camping, driving his golf cart around and visiting with people, and old time music, but mostly he enjoyed spending time with family and watching his grandchildren and great-grandchildren play.

Richard is survived by his children, Diane (Wayne) Wilson of Wanamingo, Wesley (Ramona) Finley of Kasson, Charles, Sr. (Candace) Finley of Pine Island, Jean Finley of Little Canada, Nancy Finley of St. Paul, Audrey Finley of Mantorville, and Bonita (Philip) Boyer of Rochester; 12 grandchildren; 24 great-grandchildren; two sisters, Beverly Mix of Pine Island and Mildred Sickles of Florida; and one brother, Donald Brocker of Woodbury. He was preceded in death by his parents, his wife Ella, daughter Brenda and half-sister Gayle of California.

The funeral service will be at 11:00 am on Tuesday, July 25 at St. John's Lutheran Church, 301 8th Ave NW, Kasson with Pastor John Allen officiating. Visitation will be at the church on Monday, July 24 from 4:00-7:00 pm and one hour prior to the service on Tuesday. Burial will be at Grandview Memorial Gardens in Rochester.

In lieu of flowers, the family prefers memorials be directed to the American Heart Association or the American Cancer Society.
Click Here to Leave a Comment
Posted in Obituaries |