2
Saturday, September 30th, 2017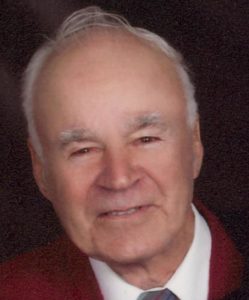 Herbert Roy Sackett, age 95, passed away peacefully on September 28, 2017
at Rochester East Health Services in Rochester, MN.

Herb was born on July 10, 1922 in Dodge County, MN to Walter and Louise
(Burzlaff) Sackett. He grew up on a farm near West Concord, MN working with his grandfather, uncles, and brothers. He graduated from West Concord High School.

Herb married Arlowyne (Arly) E. Olsen on October 19, 1945. They farmed in
several Dodge County locations before moving into Kasson, MN. He then worked for Waters Instruments in Rochester and later Owatonna Canning Company and Gandy Company. They bought their hobby farm near Dodge Center, MN to enjoy during their retirement. Arly passed away in December of 2000. Herb later moved back to Kasson, MN. He enjoyed farming, gardening, woodworking and time with his family and friends.

He is survived by his daughters Kathryn (Dean) Mennen and Karen (Harlan)
Gerke; grandchildren Lisa (James) Carlson, Darin (Carla) Jensen, Bill
(Jessica) Gerke, Robin Rust, Dan Gerke, Daryl (Nicole) Mennen and Doreen
Gould; 11 great-grandchildren; sisters-in-law Delores Sackett, Eleanor
Sackett, Jean (Olsen) Coshun; and brother-in-law Ralph Olsen.

He was preceded in death by his wife, Arly, his parents and his brothers
William Sackett, Robert Sackett and Harley Sackett.

Funeral services will be held at 11:00 am on Thursday, October 5, at St. John's Lutheran Church, 301 8th Ave NW, Kasson, MN with Pastor Nirmala Reinschmidt officiating. Visitation will be at the church from 9:30 am until the time of the service. Burial will be in the Concord Cemetery, Old Concord, MN.

In lieu of flowers, the family prefers memorial be directed to them for distribution per their wishes.
Click Here to Leave a Comment
Posted in Obituaries |