2
Tuesday, October 31st, 2017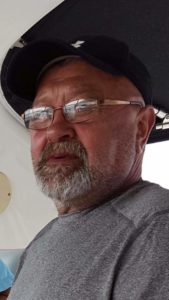 Gary Joe Gilbertson 60, of Mantorville, Minnesota passed away peacefully at Seasons Hospice on October 30, 2017.
He had a long two and half year battle with Stage IV Cancer.

He was born in Rochester, Minnesota the son of Edwin and Laura Gilbertson.

Gary is survived by his wife Brenda Gilbertson; stepdaughter Jessica (Greg) Kokoschke of Rochester, MN; four brothers, Raymond Gilbertson, Tom (Kathy) Gilbertson, Dewey (Tami) Gilbertson, and Kenny (Teresa)Gilbertson all of Kasson; three sisters, Pat (Chuck) Vanderberg, Sharon (Gary) Gullickson and Karen Hill; two grandsons,Tyler Rodenz and Hunter King; granddaughter, Riley King and mother, Laura Gilbertson. He was preceded in death by his father and grandparents.
He attended Kasson-Mantorville School.

Gary was a lifelong over-the-road truck driver, working for R & K Express for many years; then with Lawrence Transportation until he could no longer drive due to his illness.

The unselfish man that he was, Gary opened his door and his heart to his grandsons Tyler & Hunter whom he raised as his own for many years.
He loved watching them grow into fine young men, listening to their goals in life and watching them play sports. He was the best Papa a kid could ask for!

In his free time you'd find him outside, always fixing something, chatting with the neighbors, and was a perfectionist in his lawn care.
He was a wonderful man and will be missed by many.

The funeral service will be held on Friday, November 3 at 2:00 pm at St. John's Lutheran Church, 301 8th Ave NW, Kasson with Pastor Nirmala Reinschmidt officiating. Visitation will be at the church one hour prior to the service.

A special thank you to Seasons Hospice for all the care, love and support.
Blessed be his memory.
Click Here to Leave a Comment
Posted in Obituaries |