1
Norma E. Spicer ~ Former Kasson Resident
February 5th, 2018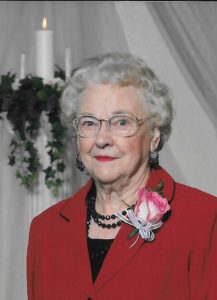 Norma Elaine Gade Spicer, of Kenyon, died peacefully on February 2, 2018 at Mayo Clinic Hospital – Rochester, St. Mary's Campus at age 98.

Norma was born in Lytton, Iowa on May 28, 1919, the third of three children of William and Ida Twachtmann Gade. She was a graduate of Lytton High School where she was a center starter for their varsity girls' basketball team.

She married Lawrence Spicer on May 28, 1937, but they later divorced. They moved to a farm six miles south of Kasson, Minnesota in 1948. In 1970, they moved to Rochester. Norma worked at Snyder Drug, St. Mary's Hospital and the Martin Hotel in Rochester. She moved to Hemet, California in 1990 and returned to Minnesota in 2005, living in Dodge Center. She then resided at Circle Drive Assisted Living in West Concord and Kenyon Sunset Home in Kenyon, MN. Dancing and traveling were her favorite things to do.

Surviving are her children Sharril Wheeler, Lennis Spicer, Nancy (James) Dykes, Arlin (Sherrie) and Michael; 17 grandchildren, 30 great-grandchildren and ten great-great grandchildren.

Norma was preceded in death by her parents, William and Ida Gade, Lawrence Spicer; sister Viola; brother Leonard; son-in-law Neil Wheeler and special friend Jim Prow of Hemet, California.

Norma will be buried with her parents at Emanuel Lutheran Cemetery in Lytton, Iowa at a later date. A short graveside service will be held at that time for the immediate family.

This entry was posted on Monday, February 5th, 2018 at 3:45 pm and is filed under Current Services, DibbleFuneralHome.
You can follow any responses to this entry through the RSS 2.0 feed.
You can leave a response, or trackback from your own site.