2
Tuesday, January 10th, 2017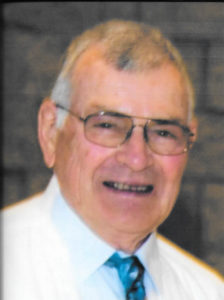 Lewellyn James "Lun" Sprenger, 78, of Kasson, Minnesota passed away at Mayo Clinic Hospital-Rochester, St. Mary's Campus on January 10, 2017.

He was born November 1, 1938 in Lake City to Frederick Jacob Sprenger and Katherine Helen Braun Sprenger. He was the oldest of five children. He graduated from Lake City High School in 1956. He worked on the family farm near Zumbro Falls for many years and later worked as a welder at Foldcraft Company in Kenyon, Minnesota.

He loved to sing and was active in church choirs throughout his life, most recently at the Kasson United Methodist Church. He also sang with the Rochester Barbershop Chorus for many years. He loved to travel, go out for dinner and spend time with his grandchildren and great-grandchildren.

Lun was considerate, patient and loved to visit with friends and family. Like his father before him, he loved the land and was most content farming. He also had an interest in geneology.

He married Janice Schwanke in 1959 and they were later divorced. In 1990, he married Karen Marie Barth. They resided in Rochester for many years and later moved to Kasson, MN.

Survivors include his wife of 26 years, Karen; two children, Serena (John) Steffenhagen of St. Louis Park and Van of Red Wing; one sister, Joan Jemison of Minneapolis; brothers Richard of Pine Island, David (Becky) of Rochester, and Dennis (Candice) of Zumbrota; four step-children, Tammy (Ken) Markham of Pine Island, Kim (Keith) Hickey of Byron, Kelley (Ron) Rolfson of Pine Island and Erik (Cheryl) Barth of Hastings. Also surviving are four grandchildren, Kaitlyn, Grace, Claire and Harry Steffenhagen; nine step-grandchildren, Chris (LeNae) Markham, Cory (Mark) Markham, Katie Hassan, Ashley (Tom) Anderson, Amanda (Justin) Oie, Jordan Hickey, Hailey Hoffmann, and Casey and Jacob Barth; and eight step great-grandchildren, Braden Borgschatz, Mackenzie, Zack, Sophia, Ali and Jasmine Hassan, and Logan and Lucas Anderson.

He was preceded in death by his parents and brother-in-law Lucius Jemison.

A memorial service will be held at 2:00 pm on Monday, January 16, 2017 at the Kasson United Methodist Church, 801 5th Ave NW, Kasson with Pastor Joel Xavier officiating. Visitation will be at the church one hour prior to the service.

Memorial donations can be directed to the family.
Click Here to Leave a Comment
Posted in Current Services, Obituaries |