8
Friday, December 12th, 2014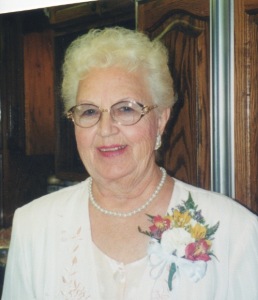 Virginia M. Blaine, 92, of Kasson, passed away at Samaritan Bethany Home on Eighth in Rochester, on Thursday, Dec. 11, 2014.

Virginia M. Hegna was born Oct. 17, 1922, in Sargeant. She married Clark Blaine on June 1, 1940, in Osage, Iowa. Mr Blaine died in 2003. Virginia was active in the Boston Cafe, Ranch Motel and Horizon Construction until retirement. She was a member of St. John's Lutheran Church in Kasson since 1946.

Virginia loved reading, jigsaw puzzles, crafts, family genealogy, traveling with her husband and cooking. Her family and grandchildren were her pride and joy.

Virginia is survived by her daughter, Rosemary Blaine of Kasson; a son, Carter (Kathy) Blaine of Rochester; one grandson, Jon (Rebecca) Blaine of Kasson; three granddaughters, Jennifer (Nick) DeFrang of Rochester, Carly (Samone Derks) Blaine of Seattle, Wash., and Lindsey (Phil Carlson) Blaine of Rochester; she has four great-grandchildren, Jarrett and Taylor Blaine of Kasson and Charlie and Claire DeFrang of Rochester.

A private inurnment will be held at a later date in the Maple Grove Cemetery in Kasson.

Dibble Funeral Home & Cremation Services in Kasson is in charge of arrangements.
Click Here to Leave a Comment
Posted in Current Services, Obituaries |