2
Thursday, April 17th, 2014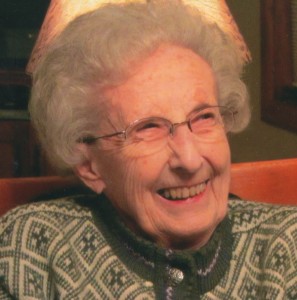 Bernice Hackenmiller, 88, of Kasson, died at her home Tuesday, April 15, 2014.
Bernice was born May 6, 1925, to Paul and Rose Huemann in Stacyville, Iowa. She was the oldest of four children. In 1945 she married Sylvan "Hack" Hackenmiller. They lived in Austin during the early years of their marriage eventually moving to Rochester in 1958, with their three daughters. In 1967, they purchased a farm in Kasson and lived there the remainder of their married life. During that time Bernice was a long-time employee of Leuthold-Fencl and Ben Franklin (now known as Kasson Variety).
Upon her retirement she enjoyed time with family and many friends. After Hack's death in 1993, Bernice continued to live on the farm until 2007, when she purchased her "perfect house" in downtown Kasson. Following her cancer diagnosis in 2012, she continued to live in her house with the loving assistance of her daughter, Nancy and support of Mayo Clinic Hospice.
She is survived by daughters, Barbara (Joseph) Gaida, Nancy Hackenmiller and Mary (Conrad) Olson; seven grandchildren, Chris, Gretchen, Geoffrey, Jacqueline, Matt, Dan and Karen; and five great-grandsons, Dylan, Ryan, Blake, Noah and Finnley. She is also survived by her sister, Donna Wagner; and many nieces and nephews.
Visitation will be held Tuesday, April 22, from 5 p.m. to 7 p.m. at the Church of the Holy Family, 1904 N. Mantorville Ave., in Kasson. There will be a prayer service at 7 p.m.
The funeral will be Wednesday, April 23, at 10:30 a.m. at the church, with Father Paul Suprenant officiating. Burial will be in the Catholic Cemetery in Stacyville, Iowa, at 3 p.m. Wednesday.
Memorial are preferred to Mayo Clinic Hospice.
Dibble Funeral Home & Cremation Service in Kasson is in charge of arrangements.
Online condolences may be made at dibblefuneralhome.com.
Click Here to Leave a Comment
Posted in Current Services, Obituaries |