3
Sunday, October 19th, 2014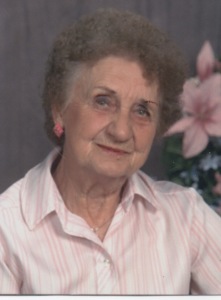 Viola "Vi" A. Meitzner, 94, of Kasson passed away on Friday, October 17, 2014 at Prairie Meadows Sr. Living in Kasson.
Vi was born on April 22, 1920 in McPherson Township in Blue Earth County, MN to Omer and Alma (Lindenburger) Bolinger. Vi married Wilfred Meitzner on May 5, 1936 in Faribault and moved to Mantorville, living above the Hubbell House. She worked at Erdman's Grocery in Mantorville and also cooked meals for the workers at the Mantorville Brewery. With her desire to cook, Wilfred and Vi moved to Claremont and leased the first Coffee Cup Cafe in the early 1950's and then purchased and opened up the second Coffee Cup Cafe down the block.
In May of 1967, Vi, Wilfred and family moved to Kasson. She continued driving back and forth to Claremont until she sold the Coffee Cup Cafe in April of 1973. From 1977 to 1980, she was the Welcome Hostess to new families moving to the City of Kasson. In 1980, she returned to the restaurant business and was a waitress and hostess at Daniel's Restaurant in Kasson. She worked at Daniel's for 18 years, retiring in 1998 at the age of 78.
Vi's pastimes were enjoying her family, spoiling her grandchildren, worked in her flower beds and fishing at her little pink cabin up on Lake Sibley.
Vi is survived by her children, Connie (Gary) Wobig and John (June) Meitzner; grandsons, Brad (Amy) Wobig, Brant (Kristin) Wobig and Christopher Meitzner; great-grandsons, Charlie and Jake Wobig; sister Darlene Munson, formerly of Owatonna, and many nieces and nephews.
Vi was preceded in death by her parents, Omer & Alma Bolinger; step-mom Polly Bolinger; husband Wilfred Meitzner; two infant children; brother Galen Bolinger; sister Donna Mork and baby sister Lavonne Marlene Bolinger.
Funeral services will be Wednesday, October 22 at 11:00 am at the First Presbyterian Church, 101 6th Ave. NW, Kasson, MN with Pastor Clint Patterson officiating. Visitation will be Tuesday, October 21 from 5:00-7:00 pm at the Dibble Funeral Home, 213 W. Main St, Kasson, and also one hour prior to the funeral service on Wednesday at the church. Burial will be at Owatonna Memorial Gardens in Owatonna, MN.
Click Here to Leave a Comment
Posted in Current Services, Obituaries |