7
Monday, April 14th, 2014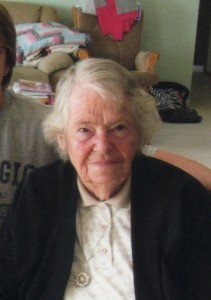 Audrey Marie O'Brien Hoffman, 86, of Kasson was called home on April 11, 2014.
Audrey was born in Rochester and the oldest of three girls born to William and Mildred (Lienau) O'Brien on June 29, 1927.
She grew up in the Kasson area on a rural country farm and attended rural Kasson school. She was married to Vergel Hoffman on July 19, 1950 in Kasson. They continued to live in Kasson and raise two daughters.
Audrey worked for Dr. Affeldt for 15 years. After his retirement, she was employed at the Kasson American Legion for the past 34 years. Audrey enjoyed her house plants and always looked forward to spring so she could plant her outside gardens. When Vergel was alive, she looked forward to Sunday afternoon drives and still did. When winter came, she would do embroidery and cross-stitch work. She also loved spending time with her family and grandchildren.
Audrey is survived by two daughters, Carol Blaisdell of Rosemount and Kathy Hegna of Kasson, five grandchildren and 12 great-grandchildren; Clifford and Mary Awsumb and children Josie and Andrew Awsumb; Layla and Stephen Werkmeister and Brendnen Larson of Ramsey; Scott and Nicki Blaisdell and children Regan, Carson and Hudson of Northfield; Karen and Al Hawley and children Katelyn and Jessica of Rosemount; Mesha Hegna of Minneapolis; Shawn and Rhonda Hegna and children Dylon and Marissa; Marion Keifer of Dodge Center and Belva Siple of Idaho. Audrey was preceded in death by her parents, husband Vergel, and three son-in-laws; Rick Awsumb, Dale Blaisdell and Sid Hegna.
Funeral services will be held at 11:00 am on Wednesday, April 16, 2014 at St. John's Lutheran Church, 301 8th Ave NW, Kasson, MN. Visitation will be Tuesday, April 15 from 5:00-7:00 pm at Dibble Funeral Home, 213 W. Main St., Kasson, MN and one hour prior to the service on Wednesday at the church.
In lieu of flowers, the family prefers memorials to the Ronald McDonald House in Rochester
Click Here to Leave a Comment
Posted in Obituaries |