7
Saturday, October 6th, 2012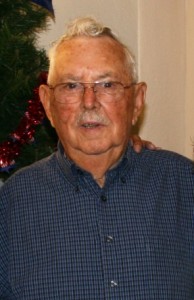 Ervin Hrabik, 94, passed away peacefully October 5, 2012 surrounded by family.
Born June 24, 1918 in Canon City, MN to Harry and Anna (Pivec) Hrabik, Erv grew up outside Faribault where he attended school and helped with the family farm. During WWII, he worked at the Twin Cities ammunitions plant where he acquired the skills to become a mechanic and worked for several large auto dealerships. He also served as Captain in the Minneapolis Rescue Reserve. He was recruited by Allstate Insurance where he worked as an adjuster for 25 years and received many awards from Allstate for his claims performance and recognition from customers for his personal service.
Erv was married to Berdell Johnson until her death in 1986. They had two children, Linda and Richard. While in Minneapolis, he was active in the congregational church, enjoyed carpentry, gardening and being with friends and family.
In 1965, the family moved to Kasson Minnesota where Erv continued as regional district adjustor for Allstate. He was an active usher at St. John's Lutheran church, a councilman, and recognized by the City of Kasson for his positions in the planning commission, park board, and civil defense. Enjoying only a brief retirement from Allstate, he was again recruited to work for Rochester based firms Federated Insurance and C&G claims. In 1986, Erv and Julie Hauschildt were joined in marriage and remained together in Kasson for the next 26 years.
Erv is survived by his wife Julie Hrabik, children Richard Hrabik of Austin, TX, Linda Smalley of Lake Kiowa, TX, grandchildren Michael Smalley of St. Louis, MO, Matthew Smalley of Dallas, TX, and sister Ethel Lockman of Anoka, MN. He was preceded in death by his first wife Berdell Hrabik, and sisters Harriet LeMieux and Josephine Bisping.
The family is planning a 95th birthday "celebration of life" on June 22, 2013 in his memory. Details to follow. There will be an inurnment burial service at Calvary Cemetery in Faribault, Wednesday, October 10, 2012 at 2:00PM.
In lieu of flowers, the family prefers you send memorials in his name to the charitable organization of your choice.
Click Here to Leave a Comment
Posted in Obituaries |