15
Friday, July 6th, 2012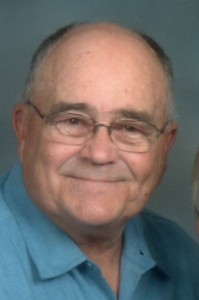 Dale Warren McClamroch, age 72, of rural Kasson, went home to be with his Lord on July 5, 2012, after battling lung cancer since his diagnosis in December 2011. Dale was born April 17, 1940 in Lexington, NE to James and Pearl (Vorland) McClamroch. On August 28, 1959, Dale married MaryLou Boyum at South Zumbro Lutheran Church, Kasson, MN.
Dale served 2 years with the US Army, stationed at Fort Carson in Colorado Springs, CO. He was employed for 36 years at Crenlo in Rochester, MN. Dale loved his home church and his church family at South Zumbro. He was church board president and also took a special interest in his role on the cemetery board; striving to get all the historical records in order and transferred onto the computer. Dale volunteered for Faith in Action and the American Cancer Society; was a member of the American Legion Post 333, enjoyed camping with the Rochester Roamers and traveling with TC Travel.
He enjoyed spending time with his family, especially camping together. Dale enjoyed watching how his farmland was being managed by his renter and had occasional opportunities to help out. He also enjoyed gardening and watching the birds that visited one of his many feeders. Anyone who knew Dale knew that he was always trying to figure out a way to "fix things"…a God-given talent. One of his greatest achievements was raising (and surviving!) five daughters.
Dale is survived by his loving and devoted wife of 52+ years, MaryLou (Boyum); daughters, Lori (Frank) Gomes and their children Hannah, Levi and Rebekah, Amy Thompson and her children Eric and Emily, Jill (Keith) Jennissen, Karen McClamroch, and Sarah (Tony) Wyatt and their daughter Cassie. He is also survived by his canine companion of 12 years, Buffy. He is dearly loved and is already greatly missed by each of them.
Funeral services for Dale will be at 1:00 pm on Tuesday, July 10, 2012 at South Zumbro Lutheran Church, 4830 – 120th Avenue, Kasson, MN, with Pastor Mark Schwartz officiating. Inurnment will follow at Maple Grove Cemetery in Kasson. Military graveside services will be provided by members of the Kasson American Legion and the Mantorville VFW.
Visitation and reviewal will be held at the church on Monday, July 9 from 5:00-7:00 pm. Visitation with no reviewal will be one hour prior to the service on Tuesday.
In lieu of flowers, the family prefers memorials which will be dispersed by the family to a number of charitable organizations that hold special meaning to Dale and his family.
The family wishes to express their most sincere gratitude for the prayers, support, encouraging words, and physical presence of so many family and friends. Thank you for helping share our burden during this difficult time.
Click Here to Leave a Comment
Posted in Obituaries |