5
Sunday, November 3rd, 2013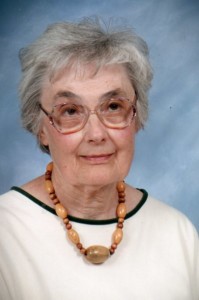 Clarice Elizabeth Madsen, 85, of Kasson, peacefully passed away October 31 at Fairview Care Center, Dodge Center, where she had resided for the past 3½ years.
Clarice Elizabeth Glamm was born in Pine Island, Minnesota, August 17, 1928. She attended Augsburg College and received her teaching degree from Mankato State Teachers' College. She taught in North Mankato, Kenyon, and Claremont. She also did substitute teaching in the Kasson area for many years.
On December 19, 1959, she married Raymond L. Madsen at St. Paul's Lutheran Church in Pine Island. The couple has resided in Kasson, Minnesota, all their married life.
In addition to her husband, Clarice is survived by two sons, Mark Madsen and Stephen (Kelly) Madsen, granddaughter Beth Madsen, and grandson Sean Madsen, all of Kasson. She was preceded in death by two brothers, Robert (Elaine) Glamm and Max (Sylvia) Glamm, and three sisters, Vera (Lester) Rhodes, Marie (Howard) Bennerotte, and Ruth (Marvin) Carney.
Mrs. Madsen was a member of St. John's Lutheran Church. She was active in several areas of education: Confirmation teacher, Church Council, Stephen Ministry, lector, bulletin boards, and Program-Visitation Coordinator at Fairview Care Center. Along with her husband, she worked with the St. John's Lutheran Church Food Shelf and Meals on Wheels for several years.
Visitation will be at St. John's Lutheran Church, 301 8th Avenue NW, Kasson, from 5:00-7:00 pm on Thursday, November 7, 2013, and one hour prior to the funeral service. A funeral service will be held at 1:00 pm on Friday, November 8, 2013, at St. John's Lutheran Church, Kasson with Pastor Marie A. K. Anderson officiating. Burial will be in the Pine Island Cemetery.
Dibble Funeral Home, Kasson, is in charge of arrangements. On-line condolences may be made at www.dibblefuneralhome.com.
In lieu of flowers, memorials are preferred to St. John's Lutheran Church of Kasson or Fairview Care Center of Dodge Center.
Click Here to Leave a Comment
Posted in Obituaries |