0
Sunday, November 1st, 2015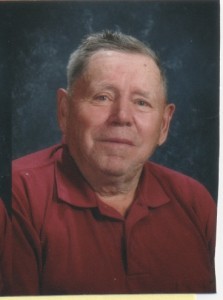 Leroy H. Witzel, 89, passed away of natural causes on Thursday, October 29, 2015 as a resident of Fairview Nursing Home in Dodge Center, MN. He had been a resident there since May of 2013.

Leroy was born on November 8, 1925. He was a strong Christian all his life. Leroy enjoyed doing things for the church and was one of the early founders of the Community Celebration Church just outside of Kasson. Leroy owned and operated the Wayne's Feed Store in Kasson in the early 50's and had a portable feed grinding business where he would go to local farmers and grind their feed.

In 1969, Leroy bought a dairy farm in Clear Lake, Wisconsin where the family farmed until the late 70's. Leroy sold the farm and moved back to SE Minnesota and semiretired. Even though he retired, he worked for farmers in the area, at the Byron school for a short period of time and at both the local Burger King and Kwik Trip in Kasson. Eventually, his health started failing, and he decided it was time to fully retire. He remained very active in his church after his retirement.

Leroy is survived by his wife, Pearl Witzel of Kasson; sons Gary (Korlee Bethke) Witzel of Menomonie, WI and Wayne (Elaine Anderson) Witzel of Lake City, MN; daughter Karen (Bill) Wagner of Little Rock, AR; sister Doris (Arnold) Severson of Hayfield, MN and brother Dale (Dorthy) Witzel of Kasson. He is also survived by six grandchildren, ten great-grandchildren and several nieces and nephews.

Preceding him in death were his parents, Roy and Laura Witzel of Kasson, MN; brother Donald Witzel of Bryan, TX and a great-grandson, Brody Rother of Hager City, WI.

Visitation will be 5:00-7:00 PM on Tuesday, November 3, at the Dibble Funeral Home, 213 W. Main St, Kasson, MN and one hour prior to the service on Wednesday at the church. Funeral services will be held on Wednesday, November 4, at 11:00 AM at the Community Celebration Church, 27337 County Highway 34, Kasson, MN, with Pastor Steve Larson officiating. Burial will follow at Evergreen Cemetery in Mantorville.

In lieu of flowers, the family prefers memorials for them to distribute per their wishes at a later time.
Click Here to Leave a Comment
Posted in Obituaries |