5
Monday, November 18th, 2013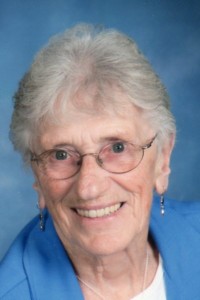 Shirley J. (Buck) Fjerstad, 83, of Kasson was called home to reunite with her husband and son, family and friends on Friday, November 15, 2013.
Our mother started her life in Lanesboro, Minnesota on August 6, 1930. She was the daughter of George and Francis Buck.
While working as a waitress in Rochester, she ran into her future husband, "Teddy" Fjerstad. The two were married on July 28. 1949. They lived in Kasson where they raised ten children. Our Mom devoted most of her life to her family and was active in the church and community.
Mom enjoyed spending time with her family, bus trips, playing cards, bingo, puzzles and her flower gardens.
Survivors include five sons, Gene, Duane "Dewey", Neil (Janet), Kurt (Coleen) all of Kasson and Todd of Dodge Center; four daughters, Joannie (Wayne) Rado of Rice Lake, WI, Linda (Todd) Burtis of Dodge Center, Lois (Leon) Cunningham of Mantorville, Cheryl (Sean) Jensen of Onalaska, WI; 19 grandchildren; 26 great-grandchildren; and one sister, Doris Brown of Kasson.
She was preceded in death by her husband, Ted; son, Claire "Chub"; great-grandson, Elliot; three sisters and one brother.
Mass of the Christian Burial will be held on Thursday, November 21, 2013 at 11:00 AM at Holy Family Catholic Church, 1904 N. Mantorville Ave., Kasson, MN with Fr. Paul Surprenant officiating. Friends may call from 4:00-7:00 PM on Wednesday, November 20 and one hour prior to the service at the church. Burial will be in St. Margaret's Cemetery, Mantorville, Minnesota.
In lieu of flowers, memorials are preferred to the family for distribution or to Holy Family Catholic Church.
Online condolences may be made at www.dibblefuneralhome.com.
Click Here to Leave a Comment
Posted in Obituaries |