8
Tuesday, February 5th, 2013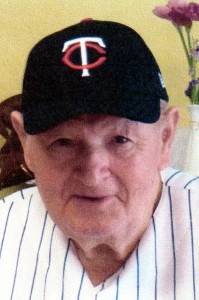 Sidney Frank Weeks died of natural causes on Monday, February 4, 2013 at Fairview Care Center in Dodge Center. A family and friends time will be at Sunwood Manor in Kasson on Wednesday, February 6, from 6:00-8:00 pm. A memorial service will be held on Thursday, February 7, 2013 at 1:00 pm at the First Congregational Church, 515 Walnut Street, Mantorville, MN with Pastor Brian Egelston officiating. Friends may call one hour prior to the service. Burial will be at Wildwood Cemetery in Wasioja, MN at a later date.
Sidney Frank Weeks was born July 2, 1920, in Wasioja Township, Dodge County, MN the only son of 4 children of Sidney and Ruby Weeks. His sisters were Leona Foster, Lavina Andrist and Gladys Schultz. He spent alot of his childhood time with the Oscar Suhr family on their farm. He enlisted in the military during World War II and taught radio repair at Scott Air Force Base.
On April 12, 1950 he married Frances Rosella Peterson at her parents' home. The couple farmed in Goodhue, Olmsted and Dodge Counties until 1974 when they purchased a feed store in Kasson, Frank's Feed and Seed. They moved to Wasioja in 1983 and then to Kasson Sunwood Manor in 1999.
Besides their three children, Dennis, Sam and Teresa Hacker, the couple helped raise nephews David Schultz and George Foster. Frank was active with the Wildwood Cemetery for years as a board member and also caretaker along with his wife. His interests were fishing, hunting, cards and other games, and cooking. He was known for cooking for other residents of Sunwood on the weekends. He was an active member of the Claremont American Legion. He loved talking with people.
Survivors include two sons, Denny (Sherry) of Owatonna and Sam (Joyce) of Claremont; a daughter, Teresa Hacker of Wasioja; five grandchildren; 11 great-grandchildren; and 3 great-great grandchildren. His wife and three sisters and a grandson preceded him in death.
Click Here to Leave a Comment
Posted in Obituaries |