7
Thursday, January 5th, 2012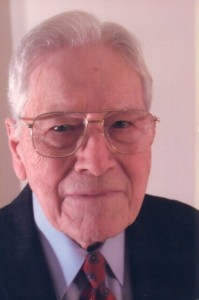 The Reverand Leon Owen Holtan, 95, of Rochester passed away on Wednesday, January 4, 2012.
Leon Owen Holtan was born in Canisteo Township, Dodge County, Minnesota on July 29, 1916. He was united in marriage with Alice Branstad on February 5, 1938.
After graduating from Kasson High School and Kasson Normal Training, he taught in a one-room rural school for seven years. He then spent several years farming as the third generation member to operate the family farm. At the age of 31, with a growing family, the Lord called him to be a pastor. He attended St. Olaf College and Luther Seminary and was ordained as a Lutheran minister in 1952. During his ministry, he served congregations in Clinton, Minnesota; Lanesboro, Minnesota and Plano, Illinois. After retirement, he served as an interim pastor for several congregations in southeast Minnesota.
Leon was proud of his Norwegian heritage and spoke the language fluently. He won the Norse Declamation Contest at St. Olaf. Later in life, he used his Norwegian skills to conduct church services, translate church history, and teach community education classes.
He was preceded in death by his wife, Alice, after 69 years of marriage. Also preceding him were his son, Leslie; three brothers, and four sisters.
He is survived by three children, Martha (David) Perbix of Wayzata, Paul (Tracy Nicholson) Holtan of Minneapolis, and Carol (Clifton) Lucido of Rochester; eight grandchildren, Tim (Sarah Rybicki) Holtan, Liz (Joe) Connor, Mark (Millie) Perbix, Leah Perbix, Sarah (Brock) Stai, Dan Holtan, Erin (Joe) Brysiewicz, and Brian Lucido; seven great-grandchildren; and two sisters, Bernice Crouch of West Concord and Marion Lund of Chatfield.
A memorial service will be held at West St. Olaf Lutheran Church, 70640 – 260th Avenue, Hayfield, MN, on Friday, January 13 at 11:00 am with Pastor Darby Lawrence officiating. Visitation will be one hour prior to the service. There will be no reviewal. Burial will be in the West St. Olaf Lutheran Cemetery.
Special thanks to Shorewood Place and Shorewood Commons, Comfort Home Health Care and Seasons Hospice for their kindness and loving care. In lieu of flowers, memorials are preferred to the West. St. Olaf Church, the Cemetery Perpetual Care Fund, or the donor's choice.
Click Here to Leave a Comment
Posted in Obituaries |