5
Saturday, June 16th, 2012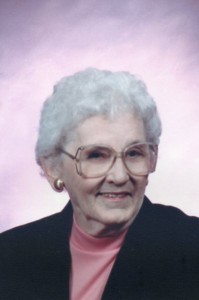 Mary M. McKean, 92, formerly of Mantorville, MN, passed away December 20, 2011 at St. Mary's Hospital, Rochester, MN. A memorial service will be held at 11:00 am on Saturday, June 23, 2012 at the First Congregational Church, 515 Walnut Street, Mantorville, MN with Pastor Brian Egelston officiating. Visitation will be one hour prior to the service.
Mary was born April 21, 1919 to Albert and Grace Buro. She was a life-long resident of Mantorville until her relocation to the St. Charles Assisted Living Center in 2007 to be closer to her son, Brad. The staff and residents loved her at the Center, where she enjoyed her new friends and the wonderful environment.
In 1940, Mary married Ronald McKean. They initially lived in one room of the "Stevens" house. Ronald was working at the local cheese factory at that time. They lived for a short time in Old Town and then moved back to Mantorville. Ronald then opened an insurance agency in their home on main street. Ronald died following a heart attack on Memorial Day, 1960, leaving behind sons Brad (18 months) and Steve (17 years).
Friends and family remember Mary as having many friends. A pot of coffee was put on in the morning at the McKean house and the door was always open for anyone to stop by for a cup and a chat. Mary was a hard worker, whose outgoing personality and fiery spirit were matched by the "twinkle" in her eye. She was incredibly strong, had lived through a lot and remained filled with generosity for others.
Mary worked at the Hubbell House for many years; first in the early morning preparing the dining rooms for the day, then taking reservations, and eventually as a hostess.
When son, Steve relocated to New Zealand in 1971, Mary visited him six times. New Zealand became her second home, as she made many friends in Auckland and New Plymouth. She was a long-time member of the Eastern Star, serving as secretary for many years. She was also a life-long member of the First Congregational Church in Mantorville. In addition, she worked each year helping with Marigold Days and served as an election official.
Survivors include sons, Brad of St. Charles and Steve (Rachel) of New Plymouth, New Zealand; and three grandchildren, Cole (Krista) McKean of Rochester, MN, Kayla (Dustin) Thompson of Rochester, MN and Naomi McKean of San Francisco, CA. She was preceded in death by her husband, Ronald, two brothers and her parents.
Memorials are preferred to The First Congregational Church, Mantorville, MN.
Click Here to Leave a Comment
Posted in Obituaries |