9
Sunday, November 3rd, 2013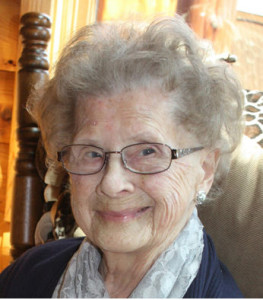 Our beloved mother, Melvina B. Fjerstad, age 90, passed away peacefully at her home in Kasson on Sunday, November 3, 2013. She was the oldest of eight children born to Alvin and Cora (Stevens) Jorgenson in Rock Dell.
Melvina "Mina" was born September 25, 1923, went to school in Rock Dell, and married Burton W. Fjerstad, Sr on September 30, 1941. They lived in Kasson after her husband returned from World War II where he was owner/operator of Burt's Standard Station in Kasson. Her husband passed away on August 26, 1988. She worked outside the home at various jobs, did daycare in her home, was the bookkeeper for her husband's businesses, but mainly raised their six children at home. She was a member of St. John's Lutheran Church in Kasson and in previous years taught Sunday School and VBS, member of Bethel Circle, and participated in many church functions. She was also a member of the American Legion Auxiliary and VFW Auxiliary.
Melvina is survived by her six children: One son, Burton Fjerstad, Jr (Enner) of Kasson; five daughters: Sharon (Tink) Larson of Waseca, Ardis Grovdahl of Kasson, Donna (Denny) Head of Kasson, Eileen (Mike) O'Connor of Brownsdale, and Lavonne (Michael) Berge of Kasson; 18 grandchildren; 43 great-grandchildren, and one great-great-grandson. She is also survived by siblings: Carol Briggs of Oronoco, Junior (Donna) Jorgenson of Hayfield, Elmer Jorgenson of Rock Dell, and Norman (Sharon) Jorgenson of South St. Paul, and sisters-in-law Mildred Jorgenson, Rochester, Marianne Stoeckinger of Mishawaka, Indiana, and Doris Lybeck, Rochester, as well as her late husband's sister-in-law, Shirley Fjerstad of Kasson.
She was preceded in death by her husband, her parents, sister Lucille Fjerstad, brothers Arnold Jorgenson and Palmer Jorgenson; son-in-law Herb Grovdahl, two granddaughters, Lisa Lynn and Dana Lynn, and several sisters-in-law and brothers-in-law.
Melvina's funeral will be held at St. John's Lutheran Church, 301 8th Avenue NW in Kasson on Monday, November 11, 2013 at 11 a.m. with Pastor Randy Fett officiating. Visitation will be Sunday from 4-7 p.m. also at St. John's Church and one hour before the service on Monday. In lieu of flowers, memorials are preferred to the family for distribution or to St. John's Lutheran Church. Burial will be in Maple Grove Cemetery in Kasson.
Dibble Funeral Home, 213 West Main St. in Kasson is in charge of arrangements.
507-634-2331.
Online condolences may be made at www.dibblefuneralhome.com
Click Here to Leave a Comment
Posted in Obituaries |