4
Tuesday, January 10th, 2012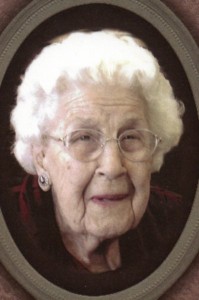 Luverne A. Lawrence, a long time Kasson resident, died Monday, January 9, 2012 at Fairview Care Center in Dodge Center, MN. She was born Luverne Alice Geisler to George and Alice Geisler on May 6, 1907, in Canisteo Township, Dodge County, and was married to Ervin Lawrence on June 14, 1930. They made their home in Clements, Minnesota until 1936, when they moved to the Kasson area. Her husband was employed by Rochester Dairy for many years and died in 1980.
Luverne graduated from Kasson High School in 1926 and completed a course of study at the Minneapolis Business College. For many years, she was employed at the Greene Bootery and Leuthold Clothing in Kasson. Luverne was an active member of the Kasson United Methodist Church and the Wesleyan Workers Circle.
Survivors include sons, Louis (Bud) Lawrence and wife, Shirley, of Mankato, and Richard Lawrence and wife, Beverly, of Brooklyn Center; daughters, Mary Alice Stewart and husband, Robert, of Owatonna and Janet Johnson and husband, Larry, of Rochester; twelve grandchildren; 26 great-grandchildren; two great-great grandchildren; and many friends, all of whom loved her and will miss her very much.
In addition to her husband, she was preceded in death by one son, Merlen; a grandson, Kurt Johnson; a brother, Harvey Geisler; and sisters, Marjorie Hein and Mabel Greene.
The funeral will be at 11:00 am on Saturday, January 14 at the United Methodist Church, 801 – 5th Avenue NW, Kasson, with Pastor Karen Seavey officiating. Visitation will be at the church one hour prior to the service. Burial will be at Maple Grove Cemetery, Kasson.
Special thanks to the staff at Fairview Care Center for their wonderful and compassionate care.
Memorials are suggested to the Kasson United Methodist Church, Hiawatha Homes in Rochester or Fairview Care Center, Dodge Center.
Click Here to Leave a Comment
Posted in Obituaries |