5
Tuesday, January 15th, 2013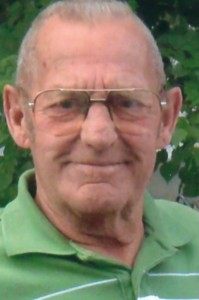 David Lloyd Bradford, a former long time resident of Kasson, died at Season's Hospice in Rochester on Friday, January, 11, 2013.
Dave was born January 27, 1933 in Berne, MN to Lloyd and Jessie Bradford. He grew up in the Kasson-Mantorville area and spent many a day peeling potatoes and washing dishes at "Brad's Diner" which was a family owned business.
In October of 1953, Dave married his childhood sweetheart, Phyllis Johnston, of Wasioja, MN in Kasson. Soon after, Dave joined the Army and the newlyweds moved to Arizona. Dave learned to be a mechanic while in the service. He was stationed in Korea from 1954-56 and honorably discharged in 1961. Dave and his new family moved back home to Kasson. He worked at Folkstad's Garage for a few years and then went to work for UPS in Rochester as a fleet mechanic. He retired after 21 years in 1986. He soon discovered that retirement was not for him (or for Phyllis). He went back to work for the Dodge County Sheriff's Department and kept the cruisers running in tip top shape. He retired for keeps in 1998.
Dave is survived by his wife, Phyllis. They celebrated 59 years of marriage on October 10, 2012. Also surviving are three daughters; Vickie (Stephanie) Hallisy of Rochester, Cindra Nordstrom of Austin, and Jody (Randy) Liudahl of Rochester; and one sister, Nancy (Lyle) Gronvold of Kasson. He leaves behind 6 grandchildren, 4 great-grandchildren, cousins, nieces, nephews, and friends.
Dave was preceded in death by his parents and brothers, Richard, Royce and Larry.
Dave lived a full and active life with his wife, daughters and friends. Many summers were spent on the lake near Faribault camping, boating, water skiing and, of course, fishing. Dave was a great fisherman, and he shared his passion with his kids, grandkids and friends. He was a long time member of the VFW, the American Legion and the Snowdrifter's Club. Dave, though short in stature, was a big character. He wanted to make sure everyone was having a good time and would share a beer with friends; luckier ones might also get some fish! He enjoyed his grandkids and great-grandkids and they, in turn, will miss their "Grandpa Pete".
There will be no funeral service at this time. The family will host a reception on January 27, 2013 at the VFW in Mantorville from 1:00-4:00 pm in Mantorville. All friends and family are welcome to come and share some "Dave" stories.
Click Here to Leave a Comment
Posted in Obituaries |