2
Monday, April 2nd, 2012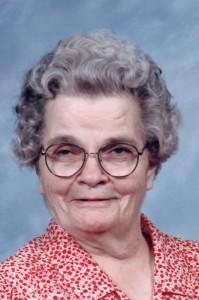 Ollene Lavonne (Matthiesen) Leutink died Monday, April 2, 2012, at St. Mary's Hospital. Ollene Lavonne Granle was born April 20, 1924, in Ionia, Iowa to Anton and Elsie Granle. She attended country schools in the Austin, Minnesota area and graduated from Austin High School in 1942.
Ollene married Donnie Matthiesen February 21, 1942. She spent most of the next years raising her family. She went to work at the Methodist Hospital in Rochester, MN, in 1968 after her youngest child went to school. She worked there until 1974. After Don was killed in 1972, she moved to Spring Valley, MN. She met and married Earl Leutink in April of 1974. She opened a craft and hobby shop in 1975. Earl passed away in 1983.
She then moved to Sparta, WI, for one year before moving back to Minnesota where she lived in the Senior Citizen apartments in Mantorville, MN for approximately 11 years where life consisted of family get-togethers, church, card playing and crossword puzzles. From there she moved to Pine Island assisted living in 2007 and then into the nursing home. Ollene truly enjoyed her visits from her many grandchildren and always looked forward to the visits as she was extremely proud of each of them.
Ollene is survived by two sons, David Matthiesen of Mantorville, MN and Dennis (Shelley) Matthiesen of Oronoco, MN; and six daughters, Darlene Carroll of O'Fallon, MO, Delores (Rodney) Wolf of Sparta, WI, Diane Hagan of Mantorville, MN, Dorothy Matthiesen of Fridley, MN, Debra Matthiesen of Zumbrota, MN and Denise Matthiesen of Stewartville, MN. Ollene has 15 grandchildren, 16 great-grandchildren and 3 great-greatgrandchildren. She is also survived by her sister, Betty Gilbertson of Jackson, MN, and step-daughter, Kathy Liebold and numerous step-grandchildren.
Ollene was preceded in death by her parents, five brothers, husband, Donnie Matthiesen and second husband, Earl Leutink; two sons, Duane and Dean; son-in-law, Howard Hagan; daughter-in-law, Marge Matthiesen; grandson, Jim Matthiesen and two step-children.
Funeral services will be at 11:00 am on Monday, April 9, at the First Congregational Church, 515 Walnut Street, Mantorville, MN with Pastor Brian Egelston officiating. Burial will be at Lansing Cemetery, Lansing, MN. Friends and family may call from 5:00-7:00 pm on Sunday, April 8, at Dibble Funeral Home, 213 W. Main in Kasson, MN and one hour before the service on Monday, April 9 at the church.
A light luncheon will be served after the services in the church. Following the luncheon all are welcome to join the family at the cemetery.
Click Here to Leave a Comment
Posted in Obituaries |