4
Tuesday, June 24th, 2014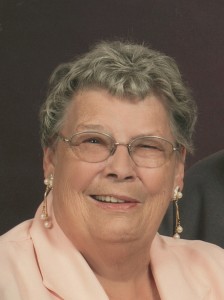 Catherine Darlene (aka Cathy) Zeller, age 79, died on Sunday evening, June 22, 2014 at her home in Kasson, Minnesota. She was born on December 22, 1934 to Gilbert and Frances (Salisbury) Steinhaus on a farm in Albany (no longer exists), Sheridan County, Nebraska.
Gilbert was a farm equipment mechanic for Alas Chalmers Co. and when WW II started in 1941, they moved to Ford Ord in Monterey, CA where he worked on tanks. Cathy started school there. After the war ended, Cathy's family moved to Sacramento, CA where Cathy continued her schooling. Her brother, Donal, was born during this time.
On Labor Day, September 1950, she met Donald Zeller, who was stationed at Fairfield Suisun (now Travis) A.F.B. It was love at first sight for Don and Cathy when they double-dated with a friend of Cathy's and her date, Robert Hegna from Hayfield, Minnesota. They all went to the State Fair in Sacramento. They dated and were married on April 6, 1952. Don was discharged from the Air Force in July, 1952. Cathy graduated from high school in 1953 and gave birth to a son, Rodney Dee, on August 6, 1953. Don worked for Cathy's dad for a year before going to Coyne Electrical School in Chicago, Illinois. They moved to Milwaukee and Don procured a job at Radio Station WRIT as an engineer. On the first night of his work, April 23, 1955, Cathy gave birth to a baby girl, named Carol Lynn. The radio announcer spread it all over Milwaukee during his broadcast. Later the family returned to California and two more daughters were born; Gale DeAnne on April 29, 1959 and Lori Eileen on December 7, 1961. Cathy and Don resided in California for 43 years and were happily married for 62 years.
By trade, Cathy was a wonderful cook and was promoted to head kitchen supervisor in several institutions — including a college and nursing homes. She was a talented homemaker and enjoyed hobbies such as sewing, knitting and traveling. She had a successful business, "Cathy's Embroidery". Cathy eventually moved with her husband, Don, to Kasson, MN where she resided until her death.
Cathy was active in many organizations throughout her life including: former member and avid Sunday School teacher and choir member of the Oak Park Methodist Church, Sacramento, CA; former member of the Supreme Emblem Club of the Elks Lodge, Auburn, CA; member of the Elks Lodge Does Group, Rochester, MN; member of the Kasson American Legion Auxiliary, Kasson, MN; member of the Zwingli United Church of Christ where she participated in Faith Circle, the Berne Guild and the Swissfest, West Concord, MN.
Cathy is survived by her husband, Don, four children, five grandchildren, and three great-grandchildren; her brother, Donal Steinhaus, of Security, CO and extended family members in California, Idaho, and Nebraska. She was preceded in death by her parents.
Cathy's visitation will be held on Thursday, July 17, 2014 at 1:00 pm at the Zwingli United Church of Christ, Berne, MN followed by the funeral service at 2:00 pm with Pastor Victor Jortak officiating. There will be no reviewal. Burial will be at the Berne Cemetery.
Memorials are preferred to the Zwingli United Church of Christ or the Berne Cemetery Association, West Concord, MN.
Click Here to Leave a Comment
Posted in Obituaries |