4
Friday, July 20th, 2012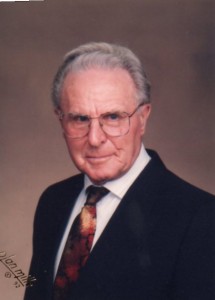 Kenneth Kellar, 100, passed away on Thursday, July 19, 2012 in Kasson, MN. He was born January 26, 1912 to Blanch (Barber) and Homer Kellar in Cylinder, Iowa. His parents moved to Kasson in March, 1912. He grew up in Kasson and graduated from Kasson High School in 1930.
He farmed with his father until moving to California where he was employed at Lockheed during World War II. He returned to Kasson and worked in construction until his retirement.
In 1943, he married Alice Hanson. She died in 1954. On March 2, 1957, he married Bernette Himle at the Little Brown Church in Nashua, Iowa. They continued to live in Kasson.
Kenneth was a member of St. John's Lutheran Church in Kasson, a thirty-second degree Mason in the local Scottish Rite Masonic Lodge, served on the Board of Directors of the Kasson Lumber Company for 18 years and was President of the Board for 11 years, was the assistant building inspector for the City of Kasson as well as a member of the committee that brought Mayo Family Clinic to Kasson.
He was an avid golfer until the age of 98 and also enjoyed reading.
He was preceded in death by his parents, 4 brothers and 4 sisters.
He is survived by his wife of 55 years, Bernette; two daughters, Barbara Kellar of Coon Rapids and Kathy (Buddy) Martinez of Kasson; two grandsons, Todd (Jeri) Ness and Craig Ness and his fiancee Victoria Hale; four great-grandchildren; one sister, LaRayne Andrist of Lake City and several nieces and nephews.
A graveside service will take place at 11:00 am on Wednesday, July 25, 2012 at Maple Grove Cemetery in Kasson with Pastor Randy Fett officiating. Friends are encouraged to attend the service and then following the service, join Kenneth's ("Casey's") family at St. John's Lutheran Church Fellowship Hall (located at 301 – 8th Ave NW, Kasson) for lunch. There will be no reviewal.
Click Here to Leave a Comment
Posted in Obituaries |