4
Friday, November 4th, 2011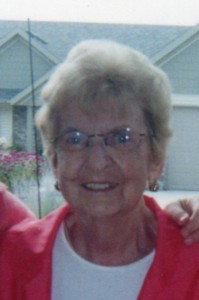 Mary Jane Kehoe passed away on Tuesday, November 2, 2011, at the age of 88. Jane had been a resident of Fairview Care Center in Dodge Center since 2010.
Jane was born November 28, 1922, in Chicago, Illinois. After her marriage to Keith Billeter, they moved to Louisville, Kentucky where she was a bookkeeper and later a homemaker. Keith and Jane raised two children. After the death of Keith, Jane married Robert Kehoe, and they resided in St. Charles, Illinois. Following Robert's death, Jane move to Kasson to be by her daughters.
Survivors include daughters, Marcie Bordelon and Mary Ann Billeter; grandchildren, Bridget Bordelon, Brian Bordelon, both of Kasson, Minnesota, Gretchen (Alan) Morrison of Lincoln, Nebraska, and Heather (Brian) Frich of Maplewood, Minnesota; great-grandsons, Westley Morrison, Josiah Morrison, Mathew Frich, and Gabriel Frich; and a great-granddaughter, Malloree Frich.
Jane was a loving wife, mother, grandmother, great-grandmother and friend to all. She was a member of Holy Family Catholic Church in Kasson. She was known for her sense of humor, loving spirit and zest for life. Her greatest treasure was her family.
Jane gave many hours of volunteer service to Meals on Wheels, K-M Elementary School, Kasson Library and as a "pink lady" at various hospitals over the years.
A funeral Mass celebrating the life of Mary Jane Kehoe will be at 11:00 am, Monday, November 7 at Holy Family Catholic Church, 1904 North Mantorville Avenue, Kasson, MN, with Father Paul Surprenant officiating. Visitation will be held from 10:00 am to 11:00 am on Monday, November 7, just prior to Mass at the church. Burial will be Tuesday, November 8, 2011 at 1:00 pm at Mt. Calvary Cemetery in Davenport, Iowa.
Click Here to Leave a Comment
Posted in Obituaries |