3
Wednesday, August 8th, 2012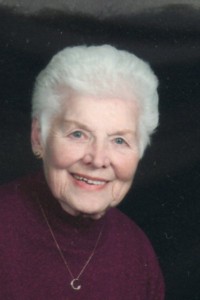 Dorothy M. Anderson, 90, of Kasson, MN passed away Tuesday morning, August 7, 2012 at her home after a brief struggle with cancer.
Dorothy Mae Wyttenbach was born May 29, 1922 at home near Mantorville, MN, the oldest of six children born to Walter and Alvera Wyttenbach. She graduated from Mantorville High School in 1940. Dorothy worked in Rochester and then moved to Seattle to work at Boeing during World War II. She returned to Mantorville. Dorothy married Robert Anderson on May 19, 1946, and they had 62-plus years together. Dorothy worked at the Kasson Gas Company and the Kasson State Bank until she retired.
Dorothy is survived by her daughters, Roberta Anderson of St. Paul and Mary (Kevin) McGraw of Minneapolis; two grandchildren, Meghan (Chris) Larson and Patrick McGraw; sister, Evelyn Suhr; brothers, Jim Wyttenbach and Daryl (Belva) Wyttenbach; as well as many nieces and nephews and their families who she loved dearly.
Dorothy was an active member of St. John's Lutheran Church in Kasson and of the community. She so enjoyed time spent with her many friends and always loved time spent with her family.
Visitation will be held Thursday, August 9, 2012 from 4:00-6:00 pm at St. John's Lutheran Church, 301 – 8th Ave NW, Kasson. Funeral services will be held Friday, August 10, 2012 at 11:00 am at St. John's Lutheran Church.
Memorials are suggested to St. John's Lutheran Church, Mayo Clinic Hospice or The American Cancer Society.
Click Here to Leave a Comment
Posted in Obituaries |