2
Sunday, October 13th, 2013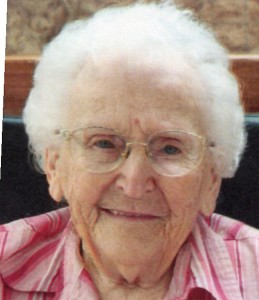 Geneva E. Carlson, 97, of Kasson, MN went home to her Lord and Savior on Thursday, October 10, 2013. She passed away at Stewartville Care Center, where she had resided the last 3-1/2 years.
Born Geneva E. Nereson on April 29, 1916 in Rock Dell, MN to the late Ellis and Margaret (Haugen) Nereson. She was a lifelong resident of Kasson. She attended country school until the age of 14 when in 1931 she went to work for Dr. Charlie and Edith Mayo at the Mayo Mansion where she was the second maid to the cook helping serve meals in the dining room. While working there, she was fortunate to meet President Franklin Roosevelt.
On April 19, 1939 she married Obert Carlson at East St. Olaf Lutheran Church in rural Byron, MN. They farmed in rural Kasson where they raised three children. After the children were school age, she worked for Dr. Tillage where he hosted special occasions. Ed Sullivan and Frank Sinatra were two of the gentlemen she cooked for while there. Geneva lived on the farm until after Obert passed away in 2003 when she went to the Stewartville Care Center in 2004. She was there for a year when she moved to Prairie Meadows Assisted Living in Kasson. She was a roommate to another Norwegian Lady for five wonderful years. In 2010 her health took her back to the Stewartville Care Center.
Geneva's biggest pride was cooking for her family and friends. She was also very active in South Zumbro Lutheran Church, where she would go out of her way to do anything she could; whether it be quilting, bazaars, or Ladies Aide. She also loved to sing in the Norwegian Choir. Geneva always had a great sense of humor and a smile on her face.
Geneva is survived by her son, Al (Donna) of Byron; daugher, Janeen Jensen (Duane) of Minneapolis; six grandchildren, 21 great-grandchildren and 3 great-great grandchildren. Also surviving is one sister, Marian Bungum(Francis), daughter-in-lawy, VeeAnn Carlson and many nieces and nephews.
She was preceded in death by her husband; son, Curtis; grandson, Troy; parents; five sisters, Crystella Starkson, Helen Thompson, Doris Molde, Bernice Falk, Joan Jensen and three brothers, Melvin, Harlan and Robert.
Funeral services will be held at 11:00 am on Tuesday, October 15, 2013 at South Zumbro Lutheran Church, 4830 – 120th Ave SW, Kasson, MN with the Rev. Mark Schwartz officiating. Visitation will be at the church on Monday, October 14, from 4:00-7:00 pm and one hour prior to the service. Burial will be in the South Zumbro Lutheran Cemetery.
Memorials are preferred to South Zumbro Luthern Church.
Click Here to Leave a Comment
Posted in Obituaries |