1
Monday, September 10th, 2012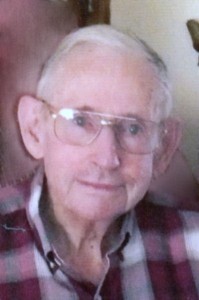 Dean L. Suhr, 92, a lifetime resident of the Mantorville area died September 9, 2012 at the Homestead Hospice House in Owatonna, MN. Dean was born on February 25, 1920 to Oscar and Dahlia (Raddatz) Suhr.
He attended school in Mantorville. On August 28, 1944, he married Lois J. Castner and they farmed together until her death on October 20, 1996. He then married Joy Bayne of Nebraska on December 27, 1997.
Dean enjoyed farming, playing cards, going for rides in the country to check on everyone's crops and going south for the winters.
He is survived by his wife of 14 years, Joy; daughter, Barb (Arleigh) Berg of Cannon Falls, MN; son, Steve (Diane) Suhr of Mantorville, MN; daughter, Marg (Tom) Harrah of Spring Green, WI; daughter, Deb (Chauncey) Jannings of Halfway, MO; 11 grandkids, 16 great-grandkids; 3 step-sons, Loren, Barry, and Kelvin (Dawn) Bayne all of Nebraska, several step-grand and great-grandkids; several nephews and nieces; one brother, Lloyd (Betty) of California; and one sister-in-law, Evelyn of Mantorville.
He was preceded in death by his first wife, Lois; a grandson, David; a great-granddaughter, Brook; one brother, two sisters and two brothers-in-law.
Funeral services will be held at 1:00 pm on Thursday, September 13, 2012 at the First Congregational Church, 515 Walnut Street, Mantorville, MN with Pastor Brian Egelston officiating. Visitation will at Dibble Funeral Home, 213 W. Main St, Kasson, MN on Wednesday, September 12, 2012 from 5:30-7:30 pm and one hour prior to the funeral service at the church on Thursday. There will be no reviewal.
In lieu of flowers, donations are preferred to the family to be distributed as to Dean's wishes.
Click Here to Leave a Comment
Posted in Obituaries |